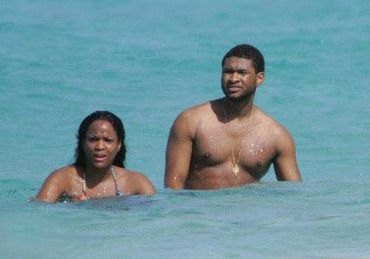 The Raymond divorce papers have been analyzed by
media sources
--and it looks like some sneaky ish was going down. The papers confirm that
Usher
and
Tameka
have been separated since July 2008. 
No surprise to us
.  But apparently, Usher found out Tameka hired a private investigator to trail Ursh for the past year.  And now he wants EVERYTHING they captured on him to be turned over:
The "Love in This Club" singer is seeking a full rundown of all documents his missus has kept during the course of their marriage...
That includes tax files, paycheck stubs, bank account information and other financial records, insurance policies, real-estate rental agreements, medical records and automobile registrations.
On the more personal—and potentially acrimonious—side of things, he's also seeking copies of "notes, cards, letters, photographs, film, documents, tapes, voice recordings, gift, jewelry, clothes" or other evidence that reflects on Usher's conduct during their marriage, as well as detective reports, photos or recordings that have resulted from either "surveillance or investigation" of her onetime better half.
Making sure no stone is left unturned—or potentially leaked to the media, no doubt—he's also requesting copies of "any and all diaries or personal notes kept…during the course of the marriage."
Damn!  Guess there's some ish that just may conveniently leak if Tameka's scorned enough. Additionally, Usher is seeking joint custody of their two kids
Usher V
and
Naviyd
Ely
.
In other Splitsville news,
MTV
has scoped out how much
Nas
is worth and just how bad
Kelis
may be messed over if he never ponies up the $30k cash
she requested
for her and their unborn baby:
The paperwork alleges Nas signed an $11 million recording contract with Def Jam and is co-owner of touring company, Gorilla Union. The documents state Nas also pays for five homes, three for the couple in Los Angeles, New York and Georgia, and one for his family in New York and her family in the Dominican Republic. In addition to business ventures and property, the filings suggest Nas owns a number of luxury items, including a Rolls Royce Phantom, a Maybach, a Ferrari and a full-time driver in New York.
According to the filing, the married couple maintained separate bank accounts and filed separate tax returns.
"All of this is adding up and all of the weight is falling on her shoulders, creating extreme emotional stress which I'm sure has affects on her physically since she's due to give birth any day now," the source said. "Kelis has spent every last penny that she has to cover whatever expenses for the baby that she can but at this point really needs him to step up and share in the responsibility. She physically can't work to bring in any sort of income, as much as she'd like to."
Apparently Kelis has been trying to get in touch with Mr. Jones but he won't answer. Sad situation for everyone involved really....