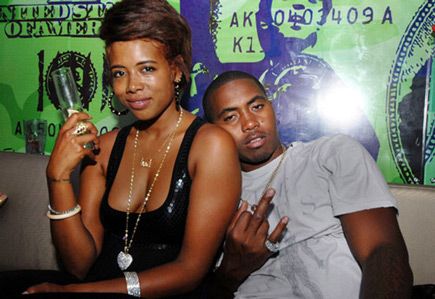 Well
Kelis
has taken her case of brokeassness to the courts. She filed her expenses in court docs today to prove why she needs the money
Nas
is refusing to give her for baby expenses and living expenses. According to TMZ:
Kelis says from 11/08 to 4/09, her average monthly income was $21,616. Hardly poor, but way less than what she and Nas were pulling in while she was with him.
Kelis, who is ready to give birth, has some pretty hefty expenses -- $80,831 a month ... way more than she says she makes.
Kelis says she hasn't toured in a year and most of her income comes from her concerts.
Kelis says she spends $14,861 on her mortgage. Her nanny costs $3,500 a month. She spends $15,000 a month on entertainment, gifts and vacations -- not too shabby. And she says it cost $175 to have the "baby rug dry cleaned."
So Ke Ke hasn't made over $20k in a month, but needs $80k for her mortgage and nanny and rug cleaning for her unborn baby. Can't wait to see how the judge rules on this one....
Girl group
Rich Girl
has just been confirmed to open for Beyonce's U.S. leg of her I Am tour. Definitely a surprising choice.... Pics from the Lakers congratulatory parade today when you read the rest...
Kobe, Vanessa
, and their daughters celebrated the Lakers Championship on a parade float today in L.A.: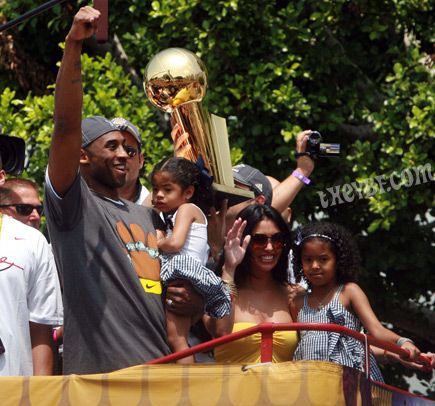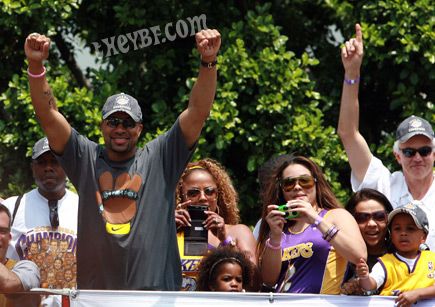 So did
Derek Fisher
and the rest of the team.  Apparently the Lakers had to pony up $1 mill+ to have the parade b/c the city couldn't subsidize it this year. The Randomness: 1.
Jamie Foxx
is
wrapped up
in a new lawsuit. And is blaming it on the alcohol... 2.
Aubrey O'Day
got robbed outside her Manhattan hotel room this morning and the muggers stole everything she had in her hands--including her Zac Posen dress. She was on her way to film a segment for TV Guide. Meanwhile, no one really cares.