Ciara & Rick Ross Get Cover Fab+Other Ish
Jun 22 | by Natasha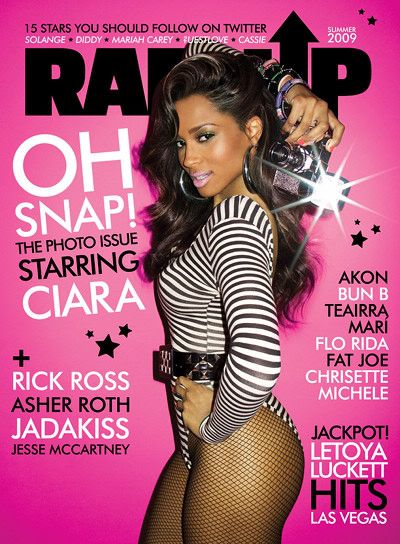 Ciara
is covering the upcoming issue of
Rap-Up
magazine in a festive photoshoot. Here's some quotables from the issue:
On her trust issues
: "It's very hard to trust people because you really never know their motives. I've seen it enough times to where the person can be really cool and seem like your closest friend and they are doing something you never would imagine or expect from them, whether it's talking about you or being around you to get information about you."
On fellow ATLien Keri Hilson
: "I knew her back when she was really trying to get in pocket and become an artist, and I know she had been trying way longer than I had back then. Back in the day, I used to ask her to sing for me. I forgot what song she used to sing, but vocally I thought she was crazy. As a writer, I thought she was dope. We did one song together on my first album. That was back when we were kinda around each other."
On Beyoncé comparisons:
"I know what work I put in to what I do and I know where I get my inspiration from and it's definitely not the references that they put up on the Internet. People live for it. Negative energy travels faster than positive energy. Whoever it was, for them to dig deep down and find all those references, that's ridiculous."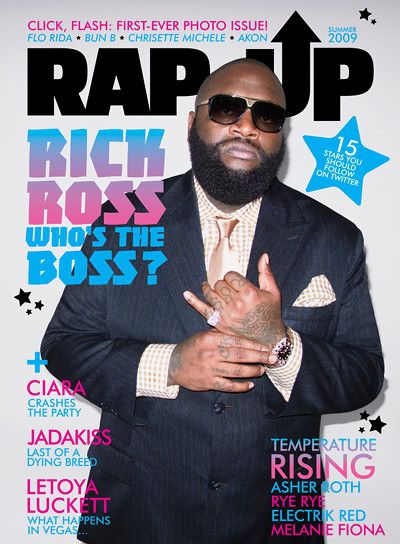 RICK ROSS is on the flip cover. And the larger-than-life MC also talks 50 Cent, Eminem, and the rapper who he named his latest car after.
On why Eminem never gets involved in 50 Cent's beefs
: "Because he knows [50] is a monkey. He's Eminem's personal monkey. Eminem is a genius for signing the monkey. Once Eminem is through with him and Jimmy [Iovine]'s through with him, he may end up on Maybach Music and be my monkey."
On those who call Kanye West flamboyant
: "He's supposed to be. What is he supposed to do, not be flamboyant, not be fly, not be arrogant? Why not? I feel like why should another ni**a be insecure about another man. That's a man; he got his own lane."
On his could-have-been football career
: "When I started playing football in little league, all the small dudes could play, but I was too heavy. I was so focused that by the time I got to the eleventh grade, I was a blue-chip All-American. Over two years, I went from being nobody to being considered one of the top three linemen in Florida." News on
Keith Washington
when you read the rest...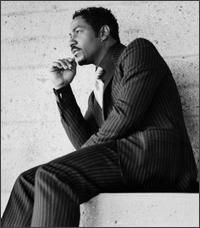 Remember R&B artist
Keith Washington
? He got married to his girlfriend
Stephanie Grimes
this past Saturday. And he's releasing a new album soon. Oh yes. The 90's are back.