Michael Jackson UPDATES
Jun 28 | by Natasha
Here's a couple of pics of Michael Jackson practicing for his "This Is It" tour with his dancers and crew last month: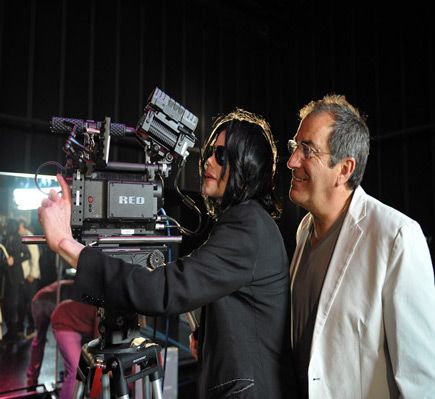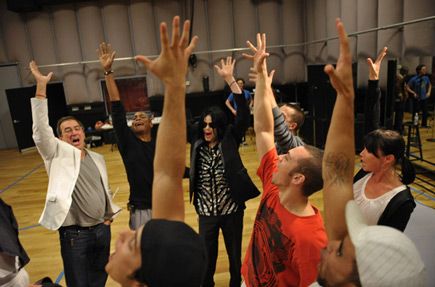 His dancers say it was incredible to see him doing the moves again that
he
originated.
Michael Jackson's mother and father, Katherine and Joseph Jackson, were seen leaving the Holmby Hills mansion where their son Michael died on Thursday. They spent around 6 hours inside with daughters Latoya and Janet and other family friends. Katherine is seen sitting in the front seat of the car looking very somber while Joseph is in the back seat wearing a black hat and sunglasses as they were driven back to their home in Encino, Ca.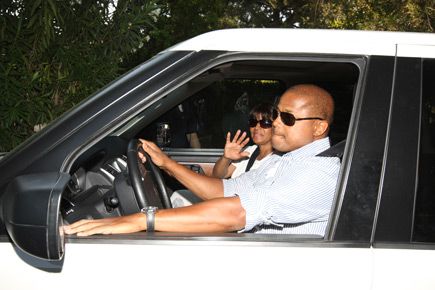 Yesterday, the family--including Rebbie and Randy pictured above--was also seen arriving to Michael's home in Bel Air with moving trucks.  Apparently Joe Jackson had ordered everything in the home to be moved to storage.
Joe Jackson has taken the reigns of the family again as they have all come together to get through this extrememly tragic time.  Joe has been very vocal about not trusting Dr. Murray--who was there with Michael when he died--and that he shouldn't be cleared of all wrongdoing as of yet.  Joe has said that the family is not liking how everything is happening and they are being kept in the dark about many things.  Also, Randy Jackson has reportedly been named to take control over Michael's estate.  Here is the official statement issued by the family:
"In one of the darkest moments of our lives we find it hard to find the words appropriate to this sudden tragedy we all had to encounter. Our beloved son, brother and father of three children has gone so unexpectedly, in such a tragic way and much too soon. It leaves us, his family, speechless and devastated to a point, where communication with the outside world seems almost impossible at times. "We miss Michael endlessly, our pain cannot be described in words. But Michael would not want us to give up now. So we want to thank all of his faithful supporters and loyal fans worldwide, you - who Michael loved so much. Please do not despair, because Michael will continue to live on in each and every one of you. Continue to spread his message, because that is what he would want you to do. Carry on, so his legacy will live forever. "In addition, Joseph Jackson wishes to personally convey: 'My grandchildren are deeply moved by all the love and support you have shown for them and their father, Michael Jackson.'"
President Obama
wrote a personal letter
to the Jackson family expressing his condolences. He decided not to put out a public statement about the matter as he said a personal letter was more appropriate.
And several never-before-seen pictures of Michael Jackson and his kids in their home have surfaced.  They show a genuinely happy Michael as he spent time with his kids and staffers at birthday parties, costume parties, and just at home:
Click the thumbnails