Tameka Speaks On Pre-Divorce "Intimacy"
Jul 01 | by Natasha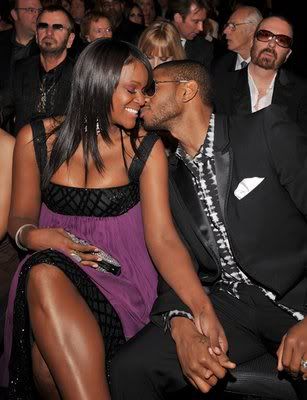 Well if this isn't a whole new extent of TMI. 
Tameka Foster
put in her divorce case papers that not only was the divorce filing a surprise, but she and
Usher
sexed it up the week before:
Usher's soon to be ex-wife states in a new court filing that she and the R&B star have not been separated since July 2008 and, in fact, were "intimately together" less than a week before he started divorce proceedings.
She had "every reason to believe her marriage was intact," her attorney stated in documents filed Monday in Atlanta.
But since it wasn't, Tameka now wants to make sure that her estranged husband takes care of all of her legal fees pertaining to the split and continues to support his family financially, per the filing.
Looks like she's pretty upset about him hitting and quitting. And she is about to make Ursh pay up. In other Raymond family gossip, the
Enquirer
is reporting that Ursh may be ordering a paternity test on baby
Naviyd
. Usher's alleged $80 mill fortune is at stake and apparently he has doubts that Naviyd is his.
Here's a pic
of Naviyd and
Usher V
here. But it is the Enquirer. So take it with a grain of salt.