Sanaa's Man Wale Has A New Chick...And Now She's Getting Couply With Tyrese?
Jul 15 | by Natasha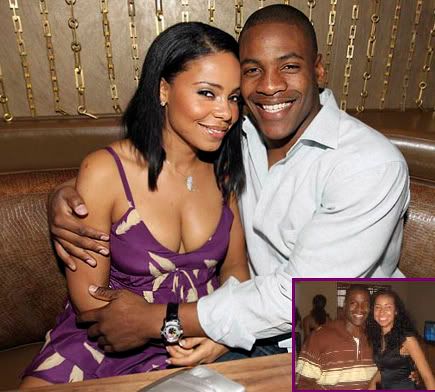 Looks like
Sanaa Lathan
and her hottie football player boyfriend
Wale Ogunleye
are dunzo. It's been an extra long minute since we've seen the two together anywhere. And this might be why: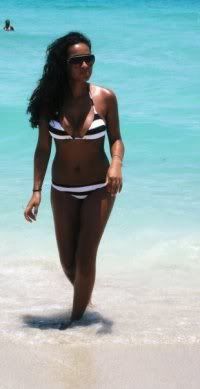 We're told by a Miami-based close friend of Wale's new romantic interest that both Wale and Sanaa have moved on. His new boo is a paralegal named
Stephanie
and they have actually been "friendly" for 4 years. According to said friend, every time Wale goes to Miami he spends time with Ms. Stephanie and they have already gone on vacations together. Interestingly she was named one of
Ebony
magazine's "Sexy Singles of 2009". The above inset picture was sent to us: It's Wale and Stephanie at her recent private birthday party held at her house.  We can't confirm this 100% just yet.  But I doubt we ever will since these two never confirmed they were ever dating.  But we all know the deal....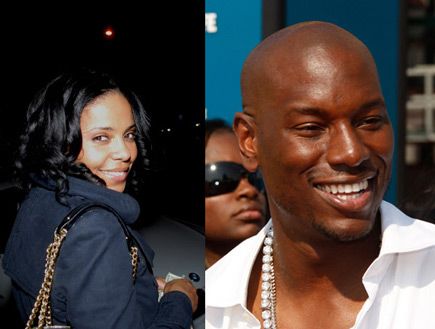 We don't think Sanaa's complaining much though. One of our loyal YBF readers spotted Ms. Lathan and another Hollywood cutie hand in hand during BET Awards weekend in L.A. And we didn't believe it until now. Here's what they sent over:
So this past weekend while I was in L.A. for the BET awards I ran into none other then Mr. Transformer himself Tyrese Gibson walking hand and hand with Ms. Sanaa Lathan at quite a few events. They tried to duck the media and paparazzi but it obviously didnt work because everyone was talking about this hot new couple this past weekend. These two were spotted sneaking into Diddy's BET party at club My House to the famous eatery Katsuya! And Ms. Lathan did not seem shy displaying her affection because she could not get enough of her new beau her hands were all over him! It's obvious that these two have been dating for a while because they seemed VERY much in tune with one another to be in a "NEW" relationship. I am guessing that they had to try and keep it hush hush due to Tyrese's recent high profile divorce, but these two didn't let anything stand in their way this weekend!! I wish them well black is beautiful.
Sanaa and
Tyrese
? Hmmm. If he ever gets his divorce papers signed and that "situation" handled...I think they'll make a very cute couple.