MIDNIGHT SNACK: Beyonce, Gabby Union & Whitney Houston
Jul 29 | by Natasha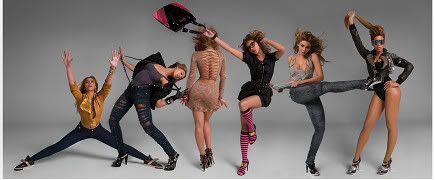 Check out Beyonce's new ad for her Sasha Fierce for Dereon line.  Click the pic to see the full sized version.  Hot ad.  Can't co-sign on these Mama Tina Creole Creations though.
Gabby
's got a job! Ms. Union is joining the cast of ABC's new fall drama, "FlashForward," in a recurring role as Zoey, a criminal defense attorney who will have a romantic arc on the show. "FlashForward" premieres Thursday, September 24 (8:00p.m., ET). According to ABC news:
"We're thrilled that Gabrielle is joining our cast," said executive producer David S. Goyer. "When we met with her, we immediately knew she was our Zoey. She's witty, soulful and beautiful. I've been wanting to work with her for a long time."
Nice.
And
Whitney Houston
has moved up her release date because of the "high anticipation" of the album.  The new date is August 31st.  A whopping 1 day before her original Sept. 1st release date.