MORNING TIDBITS
Aug 07 | by Natasha
Remember "ATL Housewife"
Kim Zolciak
's
police report
she filed on
NeNe
because NeNe allegedly choked her out? Well now Kim's dishing the details and she says it actually happened TWICE. According to
TMZ
:
Kim says Bravo suggested the two meet up that day to hammer out their issues -- but instead of working anything out, Kim just got choked out.
Zolciak also says she lost her breath for a minute and a half as NeNe choked her ... the first time. Moments later, according to Kim, NeNe went for the neck again -- and producers had to step in to safely escort Kim to her car. That's when Kim filed a police report.
Taking one for the team, Kim says she didn't file a restraining order so filming of the show could continue. She tells us "Violence is unacceptable, this has definitely changed my life. I wish NeNe would be humble enough to apologize."
NeNe flat out denies any of this. All I know is, Bravo is wrong for doing a "To Be Continued" last night right when Kim's wig was about to get split--literally.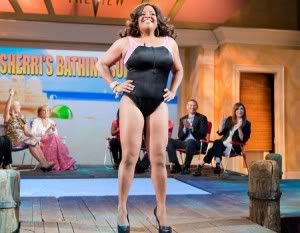 Co-Host
Sherri Shepherd
showed off her brand new swimsuit body on "The View" yesterday. She said she lost 10 inches overall just by changing a few eating habits and exercising.  But
she says
she would never get a breast reduction.  She says if she stays at this 40-33-37 measurement for a year, she may consider a tummy tuck though.  Congrats to Sherri. More when you read the rest...
Snoop Dogg
was spotted at the Baltimore Ravens training camp yesterday in the rain: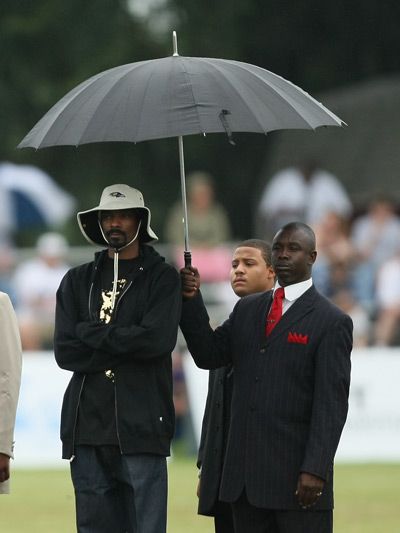 Why does this pic crack me up so much?
Look--Lil
Diddy
(
Christian Combs
) & Lil
Biggie
(
Christopher Wallace, Jr.
) are getting prepped to carry on the Bad Boy legacy. The two just finished swag summer school. This ought to be interesting....