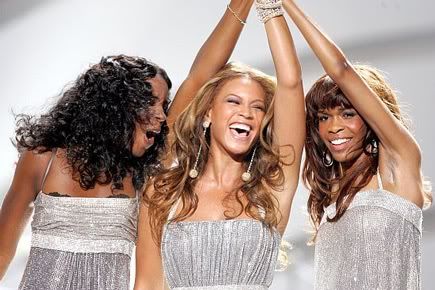 Sounds like
Hov
is about to have to put babies on hold another umpteen years. Because
Michelle Williams
--1/3 of
Destiny's Child
--has confirmed that the group is indeed reuniting in 2010:
Michelle told Britain's News of the World newspaper: "It definitely will happen. We're sisters, we love each other and we want to work on the future of Destiny's Child."
The 'Survivor' hitmakers split in 2005 to pursue solo careers.
Rumours they were reforming began circulating earlier this month, when it was revealed they were contractually obliged to produce another album.
A source said: "They still have another album they owe their label, Columbia Records, on their contract."
The trio will reportedly head back into the studio to record their new album when 'Single Ladies (Put a Ring on It)' singer Beyonce finishes her current tour to promote her latest solo album 'I Am Sasha Fierce'.
It's possible that last studio album they owe could turn out to be a Greatest Hits or some ish. But maybe
Beyonce, Kelly
, and Michelle really will record an all new album. Wonder how this'll turn out...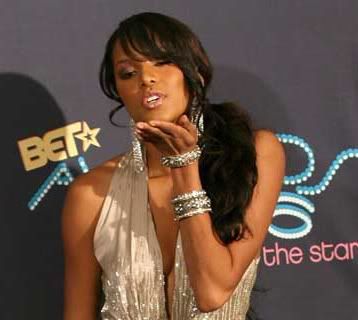 And ex-Destiny's step-child
LeToya Luckett
spoke with
The Advocate
about same-sex marriage. Her native state of Texas isn't known to be open to the idea, but she says everyone needs love and attitudes are slowly changing:
Absolutely. Ab-so-lutely. It's one of those things that's like, you know what, you've got to let people be who they are. Whether you agree with a lifestyle or not, you have to let that person be who they are. You have to love them for who they are. I just went to the Latex Ball in New York. Oh, my God! I have never seen so much creativity in one room. So much freedom. That's what I appreciate about the gay community. You know: Do you and don't worry about other people and their opinions. It's so colorful and lively, and everybody's not sitting around and -- you know when you go to a club and everybody's sitting around and standing along the walls and people watch? It's not about that. Everybody [at gay clubs] is ready to let their hair down and have fun and get into it, and that's about love. I hadn't had that much fun in a long time. A lo-o-ong time. I mean, they were givin' it, Honey! Gi-ving. And I love that. I love it. I can't stand hateful people. I can't stand hard-hearted people, and unfortunately there's a lot of people like that in this world, and it's got to die. Let it die, let it die, let it die. Let love live.
Nice.