Kim Zolciak To Neffie: You're A BET B*tch!
Sep 04 | by Natasha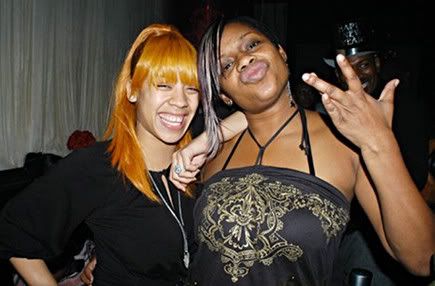 What a way to kick off a Friday morning.  ATL Housewife
Kim Zolciak
and 
Keyshia Cole
's sister
Neffie
are going in on each other via Twitter right now and legal threats are being tossed around. It all started last night (conveniently)  when Neffie posted Kim's personal cell number on Twitter.  Kim flipped out and Neffie wouldn't remove.  So Kim called Neff a "BET b*tch".  People really have Twitter balls these days.  Here's the rest of the Tweets:
Kim's Tweets:
# @therealneffee DUMB BITCHabout 4 hours ago from web #@therealneffe you are a character. you must be really dumb to think that this little 'publicity' stunt of yours would work. It is illegal!about 4 hours ago from web Then Kim's "publicist"
Jonathan Jaxson
hopped in the mix with these:
So this is how publicists handle their ish on Twitter?  Wow. Note to Kim: You do not want it with Neffie.  I have a feeling she could whoop a trick in her sleep...pregnant and all.