YBF FASHION BIT: Rachel Roy
Sep 08 | by Natasha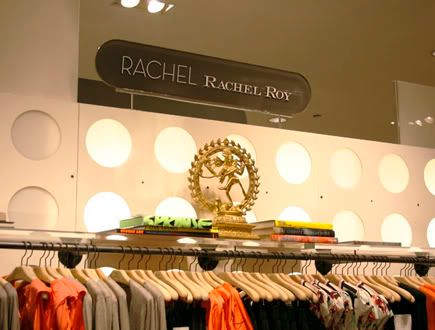 New York Fashion Week kicks off this Thursday. And this year we'll be doing more fashion bits than usual to coincide with one of the biggest weeks of fashion in the world. YBF was offered the fabulous opportunity to preview
Rachel Roy
's brand new line for Macy's . And our NY correspondent
Kisha
put her former Rock and Republic fashion executive expertise to good use and tested out the goods for the YBF reader fashionistas. Here's her take:
I have always been a fan of Rachel Roy's eponymous line Rachel Roy sold at fine retailers and select online sites. However, with retail prices between $500- $1200, it wasn't quite in my budget. So when I heard that Rachel Roy was debuting a more moderate collection at Macy's stores, I was excited to check it out! Not only did I view the collection but I had the pleasure of putting together a few outfits to showcase the line to the fabulous readers of TheYBF.com. Lucky me!
The Rachel Rachel Roy collection retails from $59 - $299 and includes everything from t-shirts to jumpers and cropped denim jackets. With artistic displays and vintage lamps, the Rachel Roy section resembles that of a bedroom. There is something warm about the area. It's as though your big sister handpicked these items for you and strategically placed them so that you could go crazy without feeling intimidated. The collection is true to Roy's signature style – timeless, sophisticated and classy. White, black and tan colors dominate the collection, with hints of color in purple patterned tops and jackets. Each piece can be paired with another item from the collection. Plush tees and tanks, ultra soft leggings and tailored blazers make the line universal. I personally fell in love and went home with a black dress called "The 24 hr dress" and a boyfriend cardigan that I plan to live in. She doesn't skimp on quality in the collection either. Expect superior fabrics and great fits.
Although there are some awesome pieces in Macy's, I was disappointed when I didn't see some of the more funky items that I previewed in magazines. I wondered if these were just fashion pieces created to tease. Not quite – Roy is opening a 'pop up' store in Soho. The shop opens on September 10th and will only be open for 10 days! So, yes there is a catch…
Look out for bold printed dresses, jewelry and handbags retailing from $40-$199 and footwear at $79-199. There are some definite Fall essentials in the collection. Don't miss it!
More pics of Kisha in a few pieces from the new Rachel Roy line when you read the rest...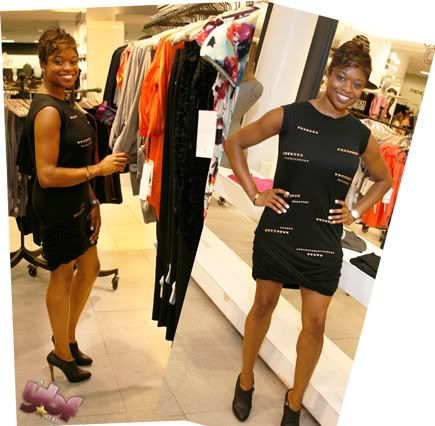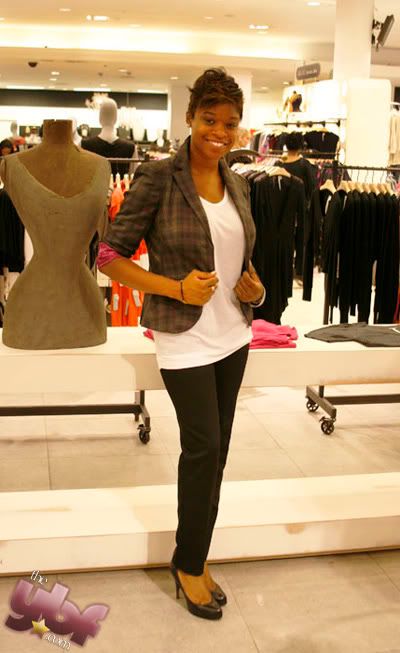 Fab.
Photog: Vinnet Brandshaw of
GeniushatesCompany.com
Vogue TV also just did a Behind The Lens series on Rachel. And she's talking about her inspirations and on camera with her kiddies. Check it.