Janet Jackson Does Harper's Bazaar: Confirms Singledom & VMA Tribute
Sep 09 | by Natasha
And this is why I heart me some Janet Jackson:
She is looking stunning with her Old Hollywood glamourpuss self on the cover of the October subscriber issue of Harper's Bazaar. It's her first interview since the death of her brother Michael. And she's opening up: Janet is also now single, recently breaking off her seven-year relationship with music producer Jermaine Dupri. Does she still believe in marriage? "For [some] people, sure! I don't know if I'll get married again. [She's been married twice, as a teen to James DeBarge and to choreographer Rene Elizondo.] I'll put it like this: If God wants me to, then I will." Dating? "Yeah, I've had people ask me out. I haven't entertained any offers thus far, but I'm locking myself in my work right now." Some might say boys smell anyway. "Yeah, they stink," she chuckles, "and they're dirty." Another interesting snippet: "I always wanted to have my mother's [Katherine Jackson] strength, but I didn't know if it was really there. But a few years back, something happened and I learned that I did." She fixes you with a keen gaze. "I'm not going to mention it, but we all know what it is. And now, coming off all this, it's even beyond that. I was just focused on my job at that moment within my family." She pauses. "Now at least I know that I can step up to the plate and not crumble when I'm needed. When it comes to something like this that is so, so serious, so painful, so traumatic, I can handle it."

So she and J.D. are officially split, she's not sure if she'll ever re-marry, and she misses her brother deeply. Speaking of that...
Believe what you heard! MTV has confirmed that Janet Jackson will OPEN this year's MTV Video Music Awards with a special tribute to her late brother, Michael Jackson. The awards air THIS Sunday, September 13 @ 9pm/8C. (The "True Blood" season finale re-airs later Sunday night for all you Fang Bangers.) More pics from Ms. Jackson's Bazaar shoot when you read the rest....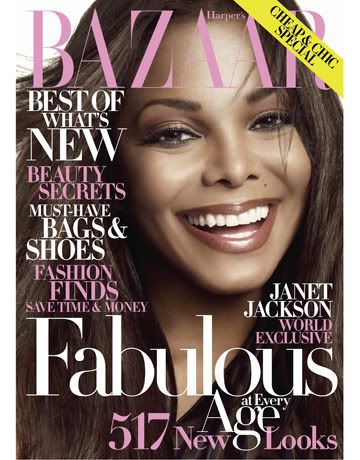 Newsstands cover.
Beautiful pics.
Photo Credit: Tom Munro