Chris Brown's The Clean Up Man+Mariah Practices For Vegas
Sep 10 | by Natasha
The scoop on what
Chris Brown
will be doing as his hard labor in Virginia is out. According to TMZ:
He will begin his 8-hour work day at 8:00 AM when a Department of Corrections bus picks him up, along with 30-40 other offenders.
[Richmond Councilman] Conner says Brown will wear a reflective orange vest and pick up trash and litter along highways and roads. He'll also have to trim brush along medians, remove gang graffiti from the VCU campus, and wash the inside and outside of law enforcement vehicles.
Conner says Brown will be kept "under the watchful eye of a supervisor" to make sure he doesn't cut any corners.
What would
you
do if you saw C Breezy on the side of
your
highway?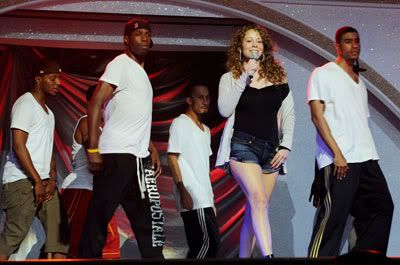 And
Mariah
is going to Vegas. She's set to give a 2 day performance at the Palms Sept. 11th and 12th. And the folks over at MariahDaily.com hit up her rehearsal and got some pics:
Lookin' like she's about to bust out a "Vision of Love"/"Dreamlover" melody at any moment....
Ahh those were the days....