We're going to LIVE BLOG this ish because...we can.
11:26p: Jay's performing with Alicia--who looks HOT by the way.  Loving that big statement necklace and surprisingly the sequins pants too.
WTF @ Lil Mama sneaking on the stage?  Was waiting on Jay to turn to his right and ask her the same thing.
Here's
MJ's
"This Is It" trailer.
11:14p:  Word around Radio City Music Hall is that Kanye & Amber got kicked out of the Awards show by a producer.   Not sure what they did (besides the obvious) but um, yeah.  We're working on verifying this info...
Heeey
Serena
.
Congrats to Beyonce for winning Video of the Year.  And props to her for giving Taylor her time to speak...
11p: Circus acts and blood and crotch shots could pretty much sum up every performance tonight so far.  Still heart Pink though...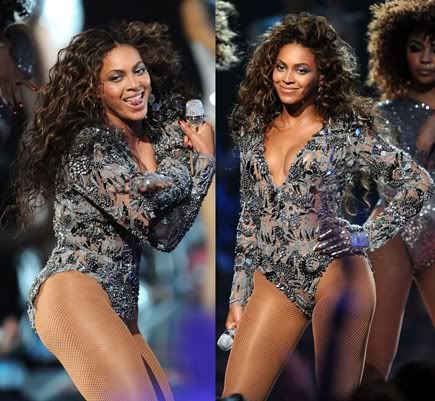 10:51p: MTV is even more transparent than usual with these "winners" of these awards.  The payolla for these Awards is something serious.  Did they just call Eminem "legendary"?
Now that we know
Jay
is performing "Empire State of Mind" with
Alicia Keys
tonight...and he's not even at Radio City Music Hall...is he going to perform at the top of the Empire State Building?  We're hearing whispers...
10:30p
: Smh at
Solange
having to perform RIGHT after her sister
and
during commercial break.  We actually would have loved to see it.  Meanwhile,
Sasha Fierce
broke out her new bedazzled leotard for this "Single Ladies" performance and we're not mad AT ALL.  Loves it. LOL @
Kanye
getting boo'd everytime his name is mentioned now.  He knows damn well you can't play the country chicks with this crowd.... On a side note, are we the only ones still recovering from
Lady Gaga's
slightly disturbing performance?
10p
: Lovin' D.C.'s own
Wale
and
UCB
as the VMA's houseband.  And we're not even Go Go fans....
9:31p
:  WTF
Kanye
?  We heart
Taylor Swift
AND
Beyonce
and all, but that on stage outburst was foolywang material.   Hennessy and a painted on unitard walking next to him has caused foolywangery to ensue.  We had to hide under the covers.... Because we LOVE
Janet
, we did appreciate the tribute.  And we're going to leave it at that.  The dancers worked that ish out too.  We spied
Laurie Ann
and
Chris Judd
dancing in the performance...
Photog: Mazur