Twitter drama is popping off.  There's a Twight...Tweef....whatever...going down amongst thirsty
Tila Tequila, Chris Breezy
, and
Teyana Taylor
. Apparently Tila's still pissy the D.A. dropped those assault charges involving her and
Shawne Merriman
. So she's been going off about him and Chris Brown/@MechanicalDummy via twitter: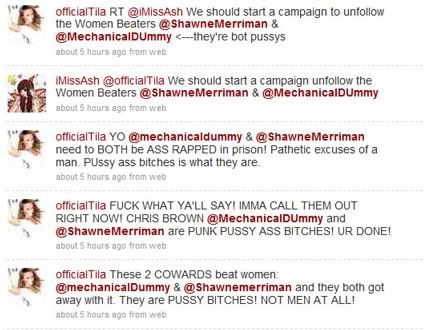 Chris' response:
"NOT TRYNA BE RUDE but i keep hearing tila bringing my name up. ur 15 seconds of fame has ended. dont try to gain fans by dissing me.godbless."
*snickers*
And then, of course, Teyana had to defend her BFF and shut down Ms. Tequila:
I feel like Twitter killed the Publicist star. But my money's on Teyana if something really pops off. Harlem chicks don't play...