Plaxico Burress
entered the Manhattan courthouse this morning with his son
Elijah
in his arms.  And Plax was officially sentenced to 2 years in the slammer after illegally carrying a firearm in a NY nightclub.  But he'll likely get 4 months credit for good behavior.  According to
ESPN
:
One-time Super Bowl hero Plaxico Burress was sentenced to two years in prison Tuesday for violating New York's stringent gun laws and was immediately taken into custody following his hearing.
Burress agreed to the plea deal last month and pleaded guilty to a lesser firearms charge. The charges stemmed from an incident late last fall, in which Burress accidentally shot himself in the thigh at a Manhattan nightclub.
He is expected to serve about 20 months with credit for good behavior, followed by two years of probation.
Damn homie.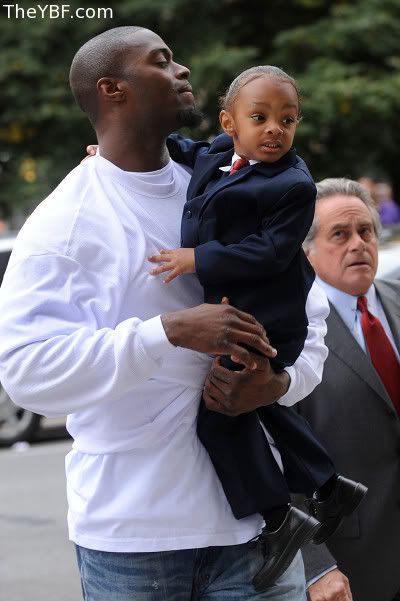 Photos via Splash