Lamar & Khloe's Publicity Wedding Bliss...
Sep 30 | by Natasha
Here's what OK!'s $300,000 paid for: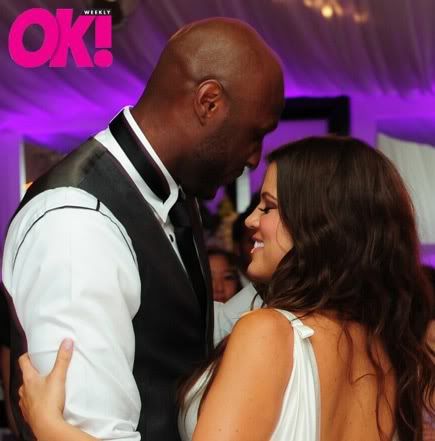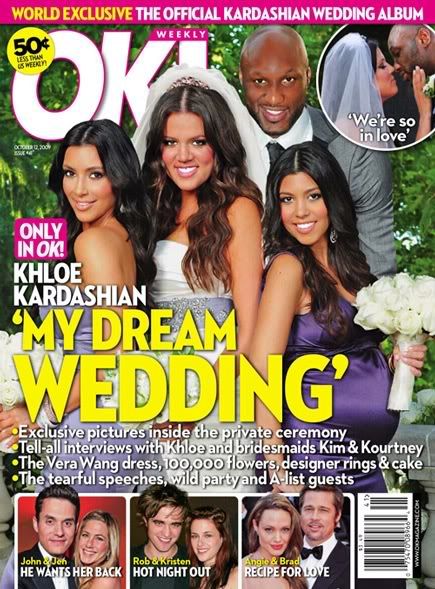 Lamar Odom has spoken out saying his wedding to Khloe Kardashian was "real" despite what reports are saying. And these are the couple's official wedding photos and OK! magazine cover from their $1 million (E! footed the bill) wedding. Their first dance was to Anita Baker's "Angel" and Babyface serenaded them with "You Are So Beautiful". According to the mag: After the rings were exchanged (Khloe's 2.5-carat Vartan Fine Jewelry micro-pavé platinum band matched that of her 12.5-carat Vartan engagement ring; weighing in at almost 5 carats, Lamar's Vartan platinum band had its share of bling, too) everyone retired to a massive marquee for a nightclub-themed reception organized by celebrity wedding planner Sharon Sacks, the woman behind the nuptials of Jennifer Lopez and Christina Aguilera. On a side note, is it just me or does Lamar look way older than 29? The wedding will--of course--air at 9 p.m. on Nov. 8 on "Keeping Up With the Kardashians". Sigh... UPDATE: Lamar just did an interview with ESPN. And he semi-addressed the marriage and says he's been a rockstar for over 10 years so he doesn't need publicity stunts. *side eye*
John Ireland: "The decision to get married, Why now?" Odom: "I've been a rock star, been on my own. Since I was 16. … doing it (marriage) so fast, there were a lot of family members who couldn't even agree. So I can imagine what it would look like to the outside person not involved in my life everyday. "I fell in love and the reason why I knew I was in love was because, I knew how I felt when I wasn't with that person or if she was no longer in my life. I've been in L.A. ten years and never had a problem meeting women. "The first team I was on, they never won a game and people thought they were going to win a game because they had me on the team, (so women said) 'oh man, he's not ugly … (I) like him.' "And then I moved to Miami and we all know what that scene is like down there. And then back here. And then I'm in L.A. and we just so happen to win a championship. So whether a woman work at Burger King or she was model that we all know by name, it never was a problem. "But I finally met the one that I knew if had I lost her, it would hurt the most."
Boy stop.