UPDATE On Fatally Beaten Chicago Teen Derrion Albert
Oct 01 | by Natasha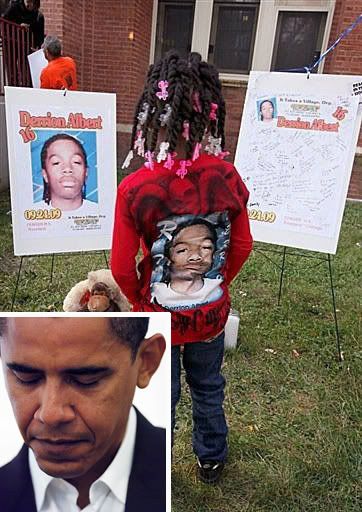 Last week, 16 year old Chicago high schooler
Derrion Albert
was beaten to death by a dozen other teen boys that was shockingly caught on tape.  The story swept the net and the nation and people were heart broken and outraged at what's been happening in Chicago these past few years.  A severe escalation in teen violence and gang related deaths is making national news.  Now the White House has given an official statement about Derrion's death:
"The reports and the video that we have seen on television is among the most shocking that you can ever see, the killing of an honor student ... who's beaten to death is -- is chilling, chilling video," [White House Correspondent] Gibbs said.
Obama discussed the incident in the Oval Office with top advisors on Wednesday, Gibbs said, adding that some kind of policy announcement could be expected shortly.
"This is something that the administration has been working on," Gibbs said.
"This is not just a Chicago-specific problem. Obviously, youth crime and gang violence are something that this administration takes seriously."
And
First Lady Michelle Obam
a's take:
The First Lady said in Copenhagen that one of the prime reasons she wanted Chicago to host the Games was to set an example for the city's youth.
"We need all of our children to be exposed to the Olympic ideals that athletes from around the world represent," she said.
"That's what excites me most about bringing the Games to Chicago -- the impact that it can have on the lives of our young people, and on our entire community."
Source: AFP
Derrion's family is asking the public for assistance in his burial and services. 
Global Grind
spoke with the family and here are the details on how to donate:
Via Paypal (Send Money)
email: derrionjalbert@yahoo.com
Via Mail:
Derrion Albert Memorial Fund 10126 S. Aberdeen Street Chicago, IL 60643 The story about Derrion's murder is
here
. His funeral services are this Saturday in Chicago.