Solange Gets Uber Fabulous For Honey Magazine
Oct 02 | by Natasha
Solange is killing it in her new photoshoot for Honey magazine. It's her very first shoot with her shaved hair: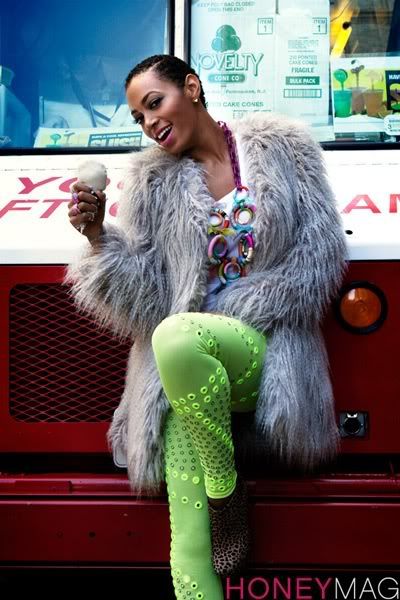 Click the thumbnails for full sized pics

Indeed one of my fave Solo shoots so far. Eclectic, bold, but still sexy. Loves it. Here's what the youngest Knowles had to say about her "non-boyfriend" Wale and her parents: I think a lot of people have been zeroing in on Twitter convos between you and a certain Mr. Wale, automatically linking the two of you together. Then we see Central Park photos… Riiiight. Whether we're rooting for it or not… we just want to know. Well, he's definitely not my boyfriend. Well, we can cross that off the list. No, I just stated that he's not my boyfriend, but we are good friends. I have worked with him in the past and I think he's uber-talented. I think he's really smart and really creative. And I respect his art. We have a mutual thing. We're on the same record label and yeah… During the shoot, you said a lot of people ask about your dad and make that assumption that he's the strict one and you said it's really your mom who doesn't play. It's interesting that people think that my dad is the one who's all strict. They build up quite a character with that guy, and at the end of the day it's my mom who's going to give you the neck roll. We've got more interview snippets about her hair when you read the rest...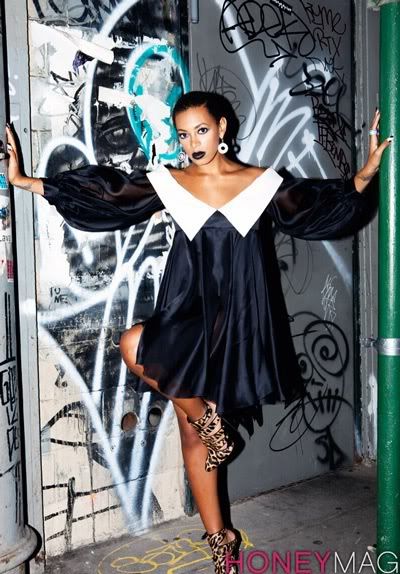 Let's just start with the question that's on everyone's minds: the big chop. We fell in love with the cut right away. We wanted to shoot you before the cut, but we were really excited when we saw it because we could really get fashion-y. I guess you just go through different phases in your life. I was pretty much at the point where I needed the change and I needed to focus my energy on more productive arenas. I was putting too much into my appearance and I needed to make this about growth and going to the next stage of my life. I felt like I was being distracted by something as simple as hair. I've always been really fearless about change. I've cut my hair the same way when I was 16 and again when I was 18. This was my third time. I saw a picture. That was really cool. I didn't know you had done it three times. Yeah, the picture that I supposedly Photo-shopped (laughs). A friend of mine was like 'People are so stupid. I read somewhere that it was recent and you Photo-shopped the color.' I was like 'Yeah, because it's that crucial.' Because you have nothing better to do, right? One thing that's kind of been confusing me is that I keep hearing people say 'Oh, great you're going natural.' Does that mean weave-free or does that mean perm-free? Because I haven't had a perm since I was 13. It's interesting how much hair plays a role in your life and character and schedule. I remember when I was 13 I went through my 'I-am-Miss-Natural, incense-burning, Bob Marley-playing, only-vintage-shop-wearing Solange.' So of course that included cutting my perm off, being a Vegan. I didn't quite understand yet that my hair did not define me. Then I remember being 16 and being like 'Okay, I can still be smart and I can still have the same beliefs that I have, but I did not have to have red Rasta braids. I can do that with straight hair. I can do that with a 'fro. I can do that with a weave down to my butt.' That was when I first cut my hair off. When I was 18 I got a hot flash because I was pregnant with [Julez] and I was like 'It's hot as hell so I'm cutting this shit off.' But this time it was definitely more so about the growth and the energy and the time I was spending. It was about to be summer, and I didn't want to have to worry about swimming or going to the park with my son or how hair was going to fit into my life. It was too much. Obviously, it's a different reaction with you because of who you are, but have you found that you're received differently by the general public than you are with the long hair? How does the outside world treat you? The first picture of me when I cut it off — I had no idea that there was any photography going on. I was looking like someone taking their kid to school at 7 o'clock in the morning in jeans and a top and no makeup on, no earrings, no nothing. That reaction was very harsh, very negative. I think it was the initial thought of change in someone that freaked everyone out. As a society we equate beauty with the images that have been placed in front of us since we were little kids. Every Disney movie, every fairy tale, every pop star typically has a certain aesthetic and look. I think that anytime we see something different, it freaks us out. The more people warmed up to it, and they saw more images of me with it and dressed up with my earrings and a little something, something on my face, I think then people were more willing to conform and accept it. Now, it's interesting how the first day I had it, I had nothing but negative, evil, cruel things in my inbox and then yesterday [after Oprah aired] I had 300,000 people saying 'Oh my God, you looked amazing, so beautiful, and you made us proud.' People were able to hear my reasoning, which is good and bad because we should be able to just express ourselves. Do you even care? Does it bother you at all? Obviously not (laughs). I knew what the reaction would be before it happened. I've always been in-tune with what physically and emotionally makes me happy. I was that little girl that wanted to wear the tutu and tap shoes as my nanny is sitting next to me shaking her head 'Yes, yes.' All through high school I got made fun of because of what I wore and what music I listened to, so this is just junior high for me all over again. I don't care, and I don't think I ever will because at the end of the day, these are not the people who are going to be there to change a flat tire or who help you in ways that you really need it. This is a really fickle and materialistic and narcissistic industry. I try not to put too much into that because it will eat you alive. The people that I love and that I really care about — their opinions matter. Those are the people that have nothing but positive things to say. Loves this chick. The rest of the interview is at HoneyMag.com. The mag is 100% digital by the way.
Photo credits: Christina Rice/Photography by Angela Boatwright; Hair by Nikki Nelms; Make Up by Jackie Gomez of The Artist Loft; Styling by Charles Wade