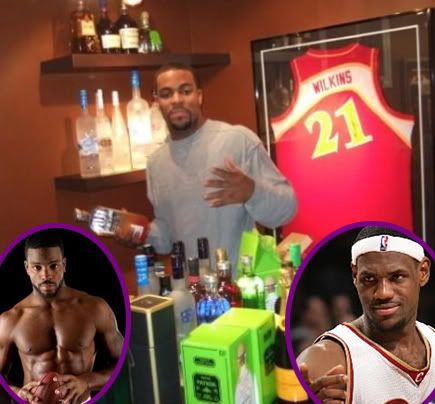 Cleveland Browns baller
Braylon Edwards
has been charged with assault after brawling with a man outside of Visions nightclub in Cleveland late last night (right after his team lost against their rivals the Cincinnati Bengals).  And the guy he wailed on is
Lebron James'
club promoter friend
Edward Givens
.  According to the
the city of Cleveland's website
, here's what went down:
Givens was talking to the suspect outside the club when the suspect started an argument. The suspect then punched Givens with a closed first on the left side of his face. Givens told officers he would seek treatment at Lutheran Hospital.
Givens is a promoter with Eighty81 LLC, an events management and marketing firm that hosts parties on Sundays at View.
In an interview with Cleveland.com's Starting Blocks blog this morning, Givens said:
"After the club closed, I was outside greeting and saying goodbye to people. Braylon comes up and started saying things, degrading me. He said if it wasn't for LeBron or the Four Horsemen, I wouldn't have what I have, nor would I be able to get girls. Everyone knows Braylon has a problem with LeBron. So I had to speak up for myself. The conversation started to escalate. As some of his teammates started to pull him back, he punched me. I have a black eye and a cut. I'm not a violent guy.
"As long as I've known Braylon, I've allowed him and his friends to come into our events free of charge. Whatever jealousy he has with LeBron, he felt he needed to take it out on me."
So Braylon is jelly of 'Bron so he picked a fight? Edward Givens had to be taken to the hospital with a black eye and a cut and a headache. This is b*tchassness at its finest.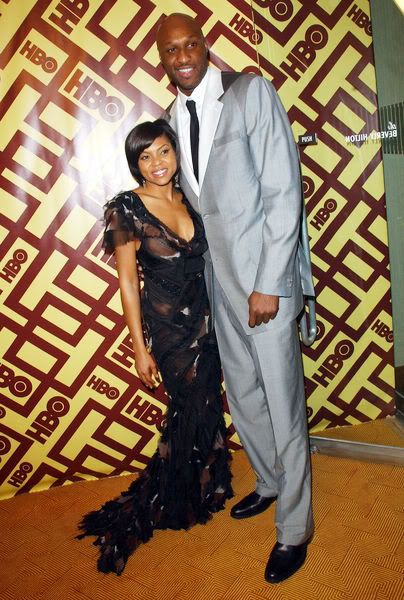 In other dumb baller news,
Lamar Odom
is said to have proposed to his former girlfriend
Taraji P. Henson
only weeks before he popped the question to his now "wife" 
Khloe Kardashian
.  On a Fox Sports radio show this morning, the popular radio hosts
Petros and Money
(who have personally known Lamar for years)
dropped this little nugget of info
:
"You want to know how in love Lamar is? Word is Lamar was madly in love with another young lady no less than one week before he met Khloe and asked that young lady to marry him and she said, 'whoa, slow down.' "This was another celebrity that sees herself grace the pages of TMZ. So you wonder … maybe Lamar had alternate plans and alternate intentions of making himself more of a celebrity than just a dude that plays basketball for the Lakers. … " … One week after he asked another young lady to marry him, he meets Khloe and three weeks later, he asks her to marry him. " … We're going to get this story, we're going to further this story. We've planted the seeds on this story and I would say that some time by this time next week, we are going to watch it grow. Watch it bloom.
I know Taraji's glad she got out when she did.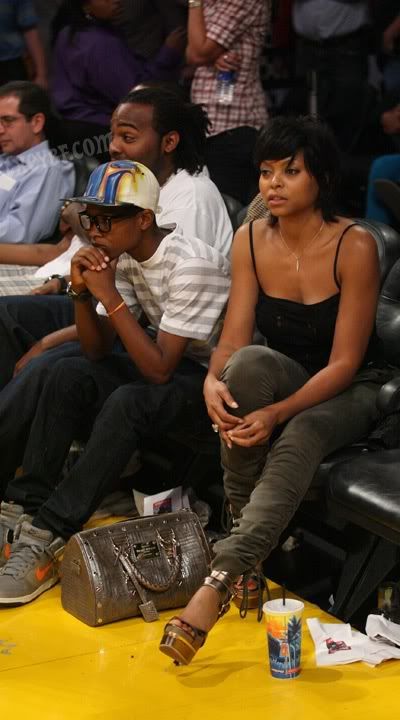 Here's a pic of T kicking it front row at the Lakers' finals game cheering on Lamar this summer.  Smh... Dish about
Mo'Nique'
s divatude when you read the rest...
She aint no diva?! 
Mo'Nique
is said to be losing out on her possible Osacr bid because of her supposed diva antics.  We reported a while back how she's not been doing much--if any--promo for her upcoming movie
Precious.  S
he's co-starring in it
and
was getting much Oscar buzz for it.  But now, thanks to her demands, she may not be getting a damn thing:
Breakout star Mo'Nique isn't considered that "precious" by executives at Lionsgate, which produced her forthcoming film. In fact, insiders are saying the 41-year-old comedian's bad attitude and shameless demands for money may jeopardize her chance for Oscar glory - all this before the highly anticipated movie opens on Nov. 6.
The star was MIA Saturday night at the New York Film Festival premiere of the buzzworthy flick "Precious." She also allegedly ditched her promotional duties during the Toronto Film Festival when she was denied a $100,000 appearance fee.
"That money didn't even include hair and makeup costs. She also demanded that her glam squad fly first class," sniped an incredulous industry source. "Apparently, she's ignorant as to how the Hollywood system works."
According to our snitch, exasperated studio chiefs suggested that executive producer Oprah Winfrey get involved to deflate Mo'Nique's substantial ego, but even O couldn't stop the actress from seeing green.
"Mo'Nique said she signed on to do this film for a small amount of money. She said she didn't care about 'no Oscar' - all that mattered was 'those Benjamins!' Because Oprah and Tyler Perry are backing the film, she feels as though there should be a budget to pay for her promotional duties," the source explains.
But the star's attitude is starting to work against her. Winfrey and Tyler have reportedly instructed Lionsgate to put their promotional machine behind fellow stars Mariah Carey and Gabby Sidibe for the Oscar race. Those two are adept at playing the game; both turned up in New York and Toronto to push the film for free (although Carey, left, was 30 minutes late to Saturday's Alice Tully Hall premiere and entered to boos from the audience in response to her tardiness).
"When people say, 'You care more about money than winning an Oscar,' well, what does an Oscar mean? An Oscar means more work when you win it, and that means more money!" retorts Mo'Nique in response to the allegations. "I couldn't eat that Oscar. Everybody needs money, baby. That's how we survive, right?"
Reps for Winfrey, Tyler and Lionsgate declined to comment, but the film's director, Lee Daniels, was quick to say, "Mo'Nique is not a diva. She puts her soul into whatever she does. I love her very much."
He does add, however, that "doing the press is hard for her because she's in the moment."
Exec. Producer
Tyler Perry
previously said there were just "scheduling conflicts". Hmmm.... Her new show airs tonight on BET by the way. The Randomness: 1. We hear
Trey Songz
has a Christmas album in the works. Interesting...