YBF Talks To Good Hair Celebs+Filmmaker Sues Chris Rock Over Alleged Good Hair Copyright Infringement
Oct 06 | by Natasha
YBF's NYC correspondent Kourtney "K-Rich" Ri'chard hit the red carpet for last night's Target and Cinema Society Good Hair premiere. And we've got some exclusive video of celebs cracking us up talking hair:
Check out what Ashanti (who says she doesn't use a perm), Wendy Williams, Chris Rock, Al Sharpton, and others had to say about what "good hair" means to them. Chris Rock gets slapped with a copyright infringement suit when you read the rest...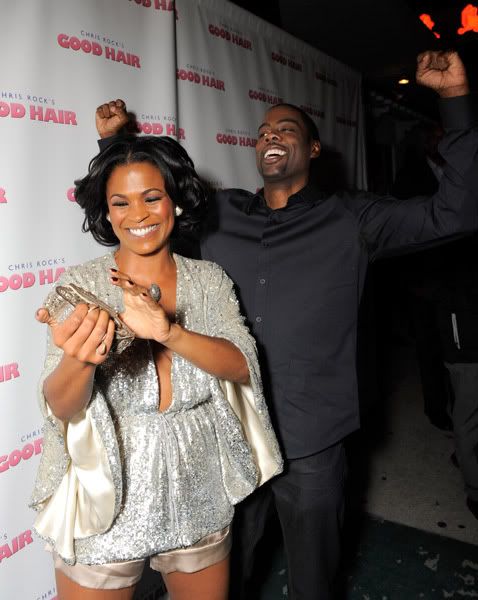 The obligatory copyright infringement lawsuit for Chris Rock has popped up. According to the press release today: Yesterday filmmaker Regina Kimbell filed a $5 million copyright infringement lawsuit in U.S. District Court in Los Angeles against Chris Rock, HBO, the domestic and foreign distributor theatrical distributors for soon to be released documentary "Good Hair." The complaint alleges Kimbell's movie, "My Nappy ROOTS: A Journey Through Black Hair-itage" was copied by Chris Rock after he and his production team viewed the film in June 2007. After hearing the buzz about the film, Rock requested a private screening at Paramount Studios. Unaware that Rock had a deal to produce a black hair documentary for HBO, Kimbell agreed to let him see the film. When Kimbell saw the trailer for "Good Hair," she immediately saw the similarities and was stunned. "This was an important story for me to tell, which is why I poured over five years of my life researching, traveling, and, shooting this film," explains Kimbell. "I had a feeling of disbelief and disappointment, so overwhelming that all I thought was I am seeing my film with a different title." Here we go....
Photog: Williamson
The Randomness: 1. Shyne got out of jail today. The homie's been in lock up for the last 10 years. Watch yo back Diddy.... 2. Mariah's recording a Christmas song with her mother. She told music reporters: I shouldn't tell you this, but I'm going to record another Christmas song, with my mother. I'm going to sing in my style, and she is going to sing operatic, which is her style." (Patricia Carey, Mariah's mom, is a former opera singer and vocal coach.)