Alicia Keys Readies New Album+Nia Long Talks Career & Motherhood
Oct 09 | by Natasha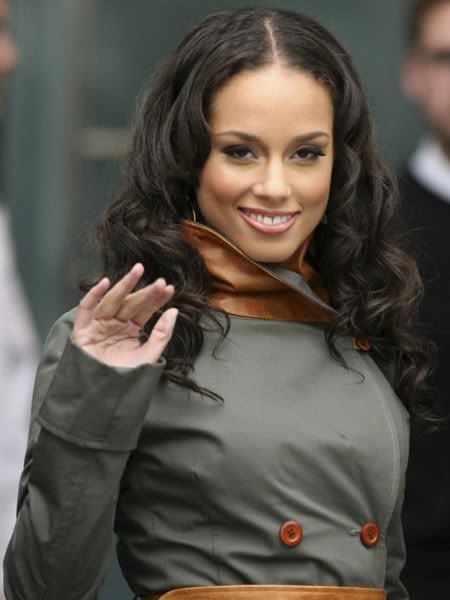 Alicia Keys will release THE ELEMENT OF FREEDOM, her 4th studio album on December 1st. Her first single is "Doesn't Mean Anything" of course. While Keys' collaboration on Jay-Z's "Empire State of Mind" and "Doesn't Mean Anything" continue to climb the charts, Keys will make her television debut performance of the single on Regis & Kelly on October 12th. According to the press release:
Alicia describes THE ELEMENT OF FREEDOM as a dichotomy of strength and vulnerability: "The music is really strong, and the drums are really aggressive, but my voice is vulnerable and delicate," states Keys. THE ELEMENT OF FREEDOM encapsulates Keys' process of "eliminating all of the boundaries and all the limitations, so that you can feel your freedom and express your freedom in every way you possibly can and that's what I did with this album," adds Alicia.
She's also premiering her video exclusively on the 16th with a certain site. Interesting that she pops off about black blogs and sites being too negative, yet she goes to one of the most negative mainstream sites on the net to premiere her vid. Just sayin'....
Snippets from Nia Long talking about Hollywood when you read the rest...
Honey Mag interviewed
Nia Long
about her career and love life. Here's some interesting snippets:
HoneyMag.com: Love Jones is my all time favorite movie! Any chance we die-hard fans can get a sequel to Nina and Darius?
Nia Long: They've talked about doing a sequel several times, but it always seemed like the script didn't do the first Love Jones justice. It's such a classic movie. I get people on a daily basis that stop me about Love Jones. Unless the script was really excellent and serviced the first movie, I don't think Larenz or I would want to do it. Sequels are great because the audience is familiar with the characters, but if you mess up a movie by doing a sequel that is not even up to par, then it can be damaging. Some things are better left alone unless you can find something to support what's already happened.
As an incredibly sexy woman, have you been able to defy being cast as a sexy role?
I think that there is a part of me that is type cast as the "girl" or "pretty woman," those things are very real and present in my career. Michelle Pfieffer said in an interview, "Beauty is a blessing and a curse." I never wake up in the morning and say, "Oh my God! I am just the most gorgeous woman on the planet!" I feel that I'm attractive, but I don't go around feeling myself on some glamourous, beautiful, perfect woman thing. What I would like for myself is to get roles that are more dramatic because that's where I started. The dramatic roles that I have auditioned for, that I have tried to fight for, I'll always get told that I'm too pretty or that a woman struggling wouldn't look like me. That's unfortunate because any tragedy that's going to happen, doesn't happen because you're pretty or not pretty. It happens because that's just part of life. I also know what my own life has been like. It hasn't always been easy. So, when I get these scripts, the characters are so interesting, dark and gritty and I'm like, "Wow, I would love to play a role like that." Every single time, I just get shut down, but I think that it's a matter of me trying to persevere in that area. I try to keep moving because it will eventually happen.
Well we've seen Halle do it in Losing Isaiah and Charlize Thereon in Monster...
How many black women have done it? Halle's done it and Taraji did it. That's it. There's a couple others, but it is so interesting to me that we get attention for playing these damaged women, but we don't get the glory for playing heroic, beautiful women. It's like, the level of attention that Halle got and the level of attention that Taraji got, it's warranted in the performance. Mainstream Hollywood doesn't really celebrate us if we do a huge romantic comedy that makes millions of dollars. There's such a division in terms of how we are appreciated in the industry. I don't think it will always be that way, but right now, it is what it is.
Your son is...
The shit! (Laughs) My son is awesome. He is just beautiful, independent, a little man, he's got the greatest sense of humor, he's a man's man. He's the greatest. He's my greatest teacher.
You've been able to keep a positive image in Hollywood because...
I mind my own business (laughs). I like being under the radar. I do my work and I love what I do, but it's a job. Acting is my creative way of expression, but being a Hollywood actress is not who I am, but it's the title I get in this business. I am far from that.
Before you're 40, you'd like to...
Have another baby and get married! (Laughs) Loves her.