Here's pics of
Soulja Boy
shooting his next video with
Snoop
for "Pronto":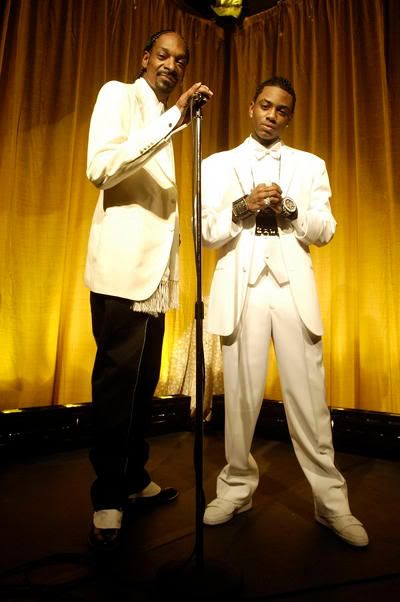 He Tweeted: "Shoutout to @SnoopDogg.  History has been made!" New hairstyle Soulja? Isiah Thomas may have thrown gay accusations at Magic Johnson when you read the rest....
Pics via Soulja's Twitter/JRMPhoto
So
Isiah Thomas
--former Detroit Piston and now headline making b-ball coach--is mad about a book his rival
Magic Johnson
is putting out that could expose him in some way. Magic accuses Isiah of spreading rumors in the NBA that Magic is gay:
Magic's most shocking accusation is that Thomas was responsible for spreading rumors that Johnson was gay or bisexual after Johnson tested positive for HIV, forcing his retirement at age 32. "Isiah kept questioning people about it,'' Magic says. "I couldn't believe that. The one guy I thought I could count on had all these doubts. It was like he kicked me in the stomach.''
And Magic popped off about why he and Michael Jordan and others blackballed Isiah:
"Isiah killed his own chances when it came to the [1992] Olympics. Nobody on that team wanted to play with him. ... Michael didn't want to play with him. Scottie [Pippen] wanted no part of him. Bird wasn't pushing for him. Karl Malone didn't want him. Who was saying, 'We need this guy?' Nobody.''
Isiah's response:
"Magic acted and responded off some really bad information that he got,'' Thomas went on. "Whatever friendship we had, I thought it was bulls--- that he believed that. Let me put it to you this way: If he and I were such close friends, if I was questioning his sexuality, then I was questioning mine too. That's how idiotic it is.''
I'm glad that he's finally had the nerve and the courage to stand up and say it was him, as opposed to letting Michael Jordan take the blame for it all these years. I wish he would have had the courage to say this stuff to me face to face, as opposed to writing it in some damn book to sell and he can make money off it.''
Drama...