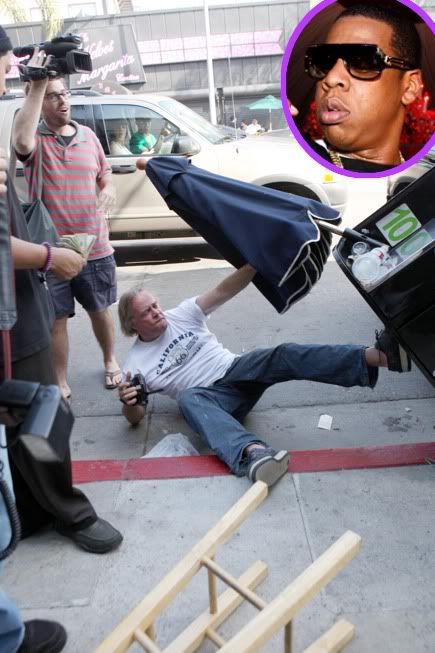 It's like Deja Vu. 
Jay-Z
's bodyguard (not
Julius
this time) allegedly knocked a paparazzo to the ground yesterday afternoon in Hollywood.  Here's what supposedly went down:
Jay-Z was leaving Capitol City sports bar in Hollywood. As he exited, a paparazzi got too close to [Mr. Carter] and was allegedly violently pushed into a valet parking booth by a burly bodyguard. The videographer, who is believed to be named Rick and works for the X17 photo agency, suffered a nasty cut to the forehead.
Source: Splash News
Womp womp. When will these paps learn?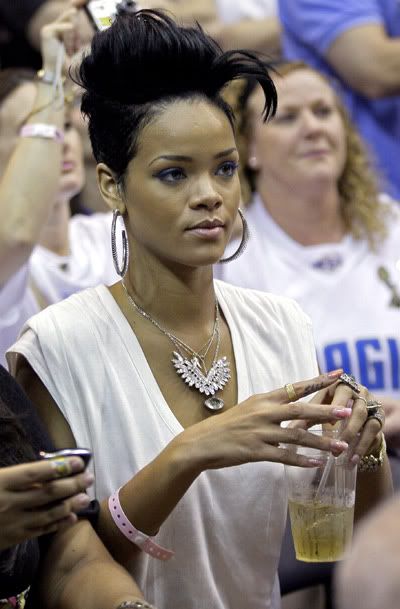 Word has it
Rihanna
turned down baller
Braylon Edwards
' advances the other night while partying in Hollywood:
Rihanna doesn't take bubbly from strangers. While hanging out with a gaggle of assistants and singer James Blount at a party thrown by Vegas nightclub The Bank at Wonderland in LA, the songstress was sent a $10,000 bottle of Champagne by Jets receiver Braylon Edwards and a handful of his teammates, who were at a nearby table. But according to a partygoer, "She didn't know who they were, so she sent it back." Edwards' rep says Braylon later introduced himself and all was well.
Funny.
Source: Splash News