Beyonce Lives It Up In London+EGYPTOLOGIST: Beyonce Is STUPID!
Nov 14 | by Natasha
Beyonce was spotted arriving at Kanaloa Nightclub in London last night in this cute off the shoulder silver sequin dress.  And sources report that earlier in the week while in Liverpool, she took out a room at the just to store her 12 bags.  A staffer said:
"She had seven suitcases, three hand-luggage bags and two boxes, all for her mammoth gig. In the cases there were, apparently, 14 dresses, lots of shoes, make-up and 25 wigs."
Damn.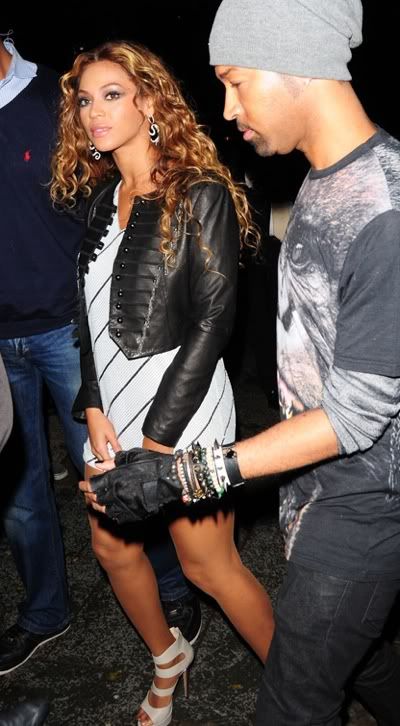 More pics and Bey getting called "stupid" when you read the rest...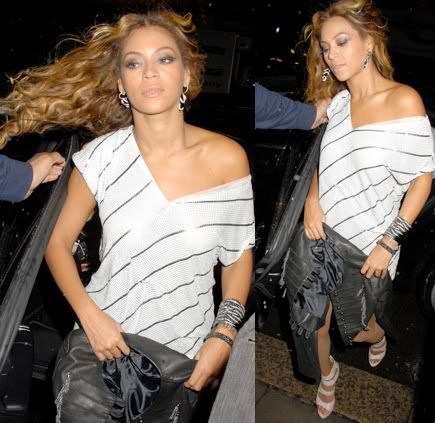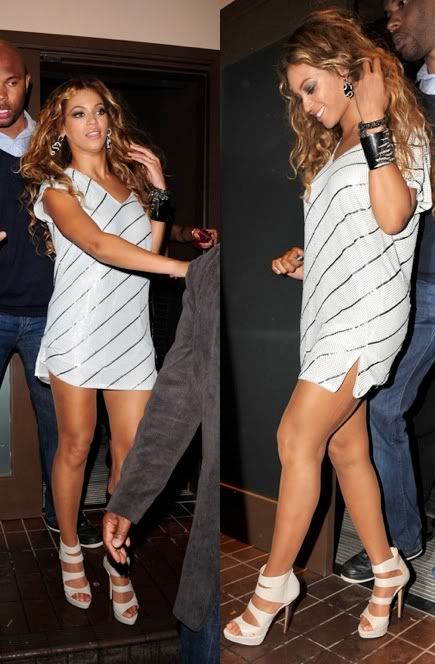 Cute.
Egypt's chief Egyptologist
Zahi Hawass
allegedly called
Beyonce
a "stupid person" during her brief tour of the Giza pyramids last week. Egyptian newspaper journalist Summer al-Gamal said that Hawass became fed up with B after she did not "show the interest Hawass felt was deserved of the pyramids." He says she was just there to stage some pics:
...During Hawass' self-guided tour, he said "I showed her the Sphinx and I gave her a book on King Tutankhamen," but then his anger and frustration made its way to the forefront.
"Then he stopped being diplomatic and said in anger, 'she's a stupid person and she doesn't understand a thing and she doesn't want to understand'," wrote Gamal.
"She's coming here to take pictures and that's it," Gamal quoted Hawass as saying.
Gamal added that Beyonce did not win over the journalists following her, however, as at least one bodyguard threatened a cameraman with violence if he did not give the pop-star her space. "One of the bodyguards threatened the cameraman, saying he would smash the camera if he continued to film," Gamal wrote.
I see
Julian
was about to pop off yet again. Anywhozers, it's not breaking and brand new news that Beyonce isn't the brightest light at Home Depot, but it is what it is. People may need to just accept it as such and just let the chick excel on stage. It was also noted in the article that
President Obama
took pictures with the pyramids as well, but he was very interested in the culture and the teachings of his escort.