Day 26 Splits From Bad Boy+Timbaland Nixes Chris Brown+Alesha Dixon Hits The Streets
Nov 24 | by Natasha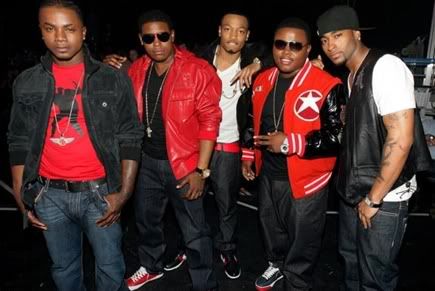 Day 26
has reportedly left
Diddy
's Bad Boy label.  They are now signed with Atlantic Records (after Diddy picked up and moved his ish to Interscope), but they say they are still cool with the Bad Boy fam:
Without Diddy's backing, Day 26 is setting out to prove that they are more than just television stars. "We really want to get people focused on the artistry, on the music," Taylor explained. "I think a lot of people lost it with the entertainment of the show. So now, we really want to show people what we're all about, that we do our thing whether its on stage, in the studio, writing and producing -- we do it all."
They're really about a day late and a dollar short with this one.   But good luck to them because they actually do have talent.
Timbaland
has reportedly nixed
Chris Brown
from his album that drops December 8th. According to
TMZ
, an insider claims that Tim and Chris collabo'd on a track called "The One I Love," but was removed from the song due to Chris' legal troubles. Timbo's manager,
Marcus Spence
, says Chris
was
dropped from the song, but it was an amicable creative decision.  And that they "love" Chris.  Womp. Pics of YBF British singer
Alesha Dixon
when you read the rest...
Alesha Dixon was spotted out in the UK last night leaving GMTV studios to promote her upcoming album. The Randomness: 1. 
50 Cent
's new condoms get busted.
Story