Tiger Woods
has backed out of his own charity golf tournament scheduled to take place this week. The 33-year-old released a statement on his website revealing he would not be taking part in the Chevron World Challenge. "Due to injuries sustained in a one-car accident last week, Tiger Woods will be unable to play in the 2009 Chevron World Challenge," the statement read. Tiger's alleged mistress
Rachel Utchitel
(who is supposedly the cause of Tiger and Elin's alleged fight that led to the car crash in question) just retained
Gloria Allred
as her lawyer. Even though Rachel denies any intimate relations with Tiger. So we
all
know drama is about to ensue.
"I am extremely disappointed that I will not be at my tournament this week," Woods says in a statement posted on tigerwoods.com. "I am certain it will be an outstanding event and I'm very sorry that I can't be there."
"We support Tiger's decision and are confident the strong field and excellent course will provide an exciting week of competition at the Chevron World Challenge," says Greg McLaughlin, president and CEO of the Tiger Woods Foundation, the prime beneficiary of the tournament.
By the way, Nike--one of Tiger's largest sponsors--has stated they are sticking by him. More with
Nia Long
and
MJB
under the cut...
Nia Long
reportedly left the Miss Black Britain competition recently earlier than expected.  And neither she nor her publicist are happy with what went down.  Her publicist told a media source:
'Nia was disappointed that the lack of organisation lead to her early departure. She and I arrived at the venue at 7pm as requested to perform a walk-through before the show opened at 8pm. 'On arrival we were informed by the organisers that Ms Long's co-host [UK model Ainslee, below] "was not confident" enough and they had been left to draft in an alternative co-host. This meant the script which Ms Long had rehearsed was now defunct. 'The chaotic scene which met us on arrival due to the road closures around the venue earlier in the day, suggested a severe lack of organisation, and this was not a scenario either myself or Ms Long were comfortable she host in. 'Having agreed to attend purely as a support for the contestants and the positive ethos of the Miss Black Britain concept, Ms Long agreed to stay in a judging capacity. 'The show opened 90 minutes late, by which point Ms Long had been sitting in her dressing room for almost two hours. Due to a previously organised engagement at 11pm, we had no option but to leave the venue at the interval. 'If the show had run to schedule Ms Long would have remained present throughout, and was disappointed that the lack of organisation lead to her early departure.'
Interesting.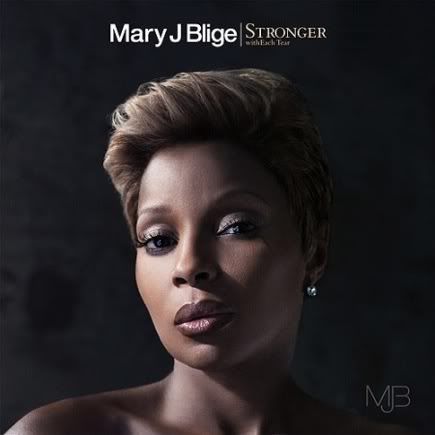 Here's
Mary
's
Stronger With Each Tear
album cover. The Randomness: 1.  So
Usher
's mama doesn't like his new chick either?
Story