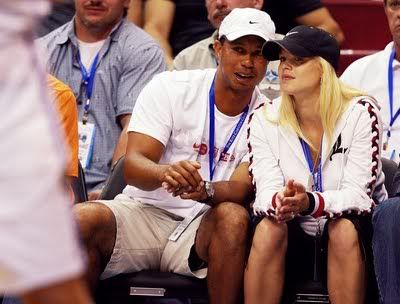 Hope your mid-day popcorn is popped because this ish just got juicier.
Elin Woods
apparently called
Tiger
's cocktail waitress jump off
Jamiee Grubbs
and went in on her ass about cheating with her husband.
TMZ
reports that Jamiee then went to work the next day and played the voicemail from Elin for her co-workers. While Elin didn't identify herself in the voicemail, she
did
say:
"You know who this is because you're fu*king my husband."
I guess Jamiee didn't take heed to Tiger's orders to ERASE his number out her phone. And is it me or are Tiger and Elin a lot more spicier than we all thought? WOMP. The Randomness: 1. The emails have been released between the White House crashers
Salahis
and Asst. to the Secretary of Defense
Michele Jones
. They prove Michele told them she couldn't get them tickets. And now the Salahis say they didn't get her voicemail saying this because their phones were dead. WOMMMMP.