{NSFW}

People really shouldn't tape themselves when they're wasted. This is a clip from
Lil Wayne'
s new documentary
The Carter Documentary
. He was telling his boys in the room about a time he was 11 and his "daddy"
Baby
brought him into a room of several people and adults. And then proceeded to tell some females in the room to perform oral sex on him. Several wrong things with this situation--oral sex on an 11 year old? Sex performed in front of several grown men? And everyone's laughing?  Would we be laughing if this was a female telling the same story? Hmmm.
Speaking of double standards,
Chris Brown
took to Twitter yesterday to address the
Tiger
and
Elin Woods
domestic violence situation that has been overlooked but unproven: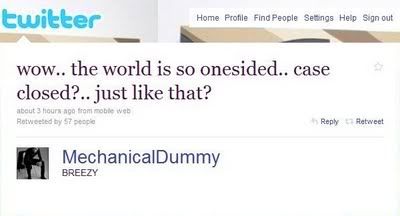 Hmmm. On another Tiger note, the first alleged mistress
Rachel Uchitel
has just come clean saying she lied about NOT having an affair with Tiger to save his ass. She's going to tell the truth at a press conference today. According to reports:
The New York City club promoter has confessed to being involved with Woods after previously telling press, "I have not had an affair with Tiger Woods…I have never spoken on the phone with Tiger Woods, or texted him, ever." She had previously claimed, "This is ridiculous. Not a word of it is true. I told the Enquirer and Star that it wasn't true. I told them not only did I have information to disprove the story, but I offered to take a lie-detector test." But now Miss Uchitel is scheduled to appear at a press conference later today (December 3), with her high-profile attorney Gloria Allred making an official statement confirming that her client and Mr. Woods have been romantically involved.
Source: Gossip Girls
Damn.