Usher & Alicia Keys Performing AT All-Star Game+Solange Pops Off About Grammys+Rihanna Talks Exorcisms
Feb 02 | by Natasha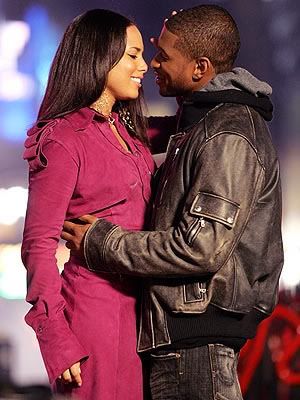 Alicia Keys
and
Usher
are hitting the tv stage again.  They have both been tapped, along with Shakira, to perform at this year's NBA All-Star game half time show. Alicia is performing "No One," "Empire State of Mind," and "Try Sleeping With A Broken Heart." Usher will perform his new track "More" during the introductions of the 2010 NBA All-Stars. In addition, TNT filmed an exclusive music video with Usher for the single which began runing in Regal Cinemas this past Friday. He'll also be performing "Yeah." More news from
Solo
and
Rih Rih
when you read the rest...
So
Solange
has some words for the folks talking about the Grammys. She's not feeling the fact that most people aren't recognizing the fact that her big sis broke a record that night (previously held by
Lauryn Hill
)--6 Grammys in one night. She Tweeted:

Get ya Kanye on then Solo...
And
Rihanna
recently chatted with
DJ JoJo Wright
about seeing exorcisms in her childhood church. She said people would suddenly look different and have a different voice. "Someone would just get up screaming, spinning out of control. you can't control, it's like night and day.  It actually happened in a house." Whoa.