Zoe Saldana: Ethnic Is The New "N" Word
Mar 04 | by Natasha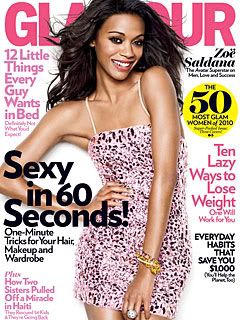 Avatar
hottie
Zoe Saldana
is one of 4 cover girls for the April 2010 issue of
GLAMOUR
.  She's looking gorgeous as usual in a DSquared pink sparkly dress. On spicing up her sex life more:
"I want to have more sex, travel more, drink more wine and love life," in her interview for her winning title. She also says, "I love women. I worship women. Don't want to be any other woman but myself."
And in another released snippet from her interview, she talked about Hollywood's new hot button race word. Read it after the cut...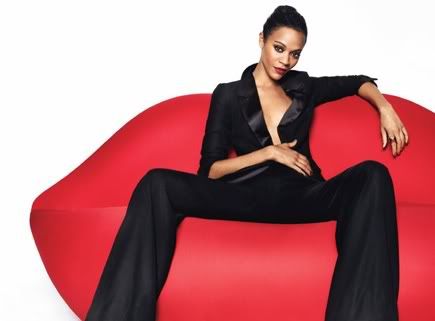 YSL jacket and pants
GLAMOUR: How has your definition of glamour changed over the years? ZOË SALDANA I love aging. Why would I want to be 21 for the rest of my life? Glamour is about feeling good in your own skin. GLAMOUR: In past interviews, you've bristled on the topic of race. Why? ZOË SALDANA Because ethnic is a word that doesn't exist in my vocabulary. In Hollywood, you hear things like, "Oh, they loved you but they want to go more traditional." That's the new N word. So when [someone says] I look "dark," I say, "Dark compared to whom? This is just my skin." GLAMOUR: This truly is the Year of Zoë Saldana . How has your life changed? ZOË SALDANA To quote a rapper, "Mo' money, mo' problems." More work, less time to live. GLAMOUR: Is it tough to make time for your boyfriend, [actor] Keith Britton? ZOË SALDANA Well, it's not like he sits around waiting. We travel a lot, which keeps things alive. We're very private. It's worked for 10 years—long enough to go to hell and back. GLAMOUR: Where will you be in 10 years? ZOË SALDANA I want to be the best daughter, sister, friend and wife I can possibly be—because when I die, I am not going to be buried with my Oscar. I want to love life.
Source
*Snaps* Loves this chick.