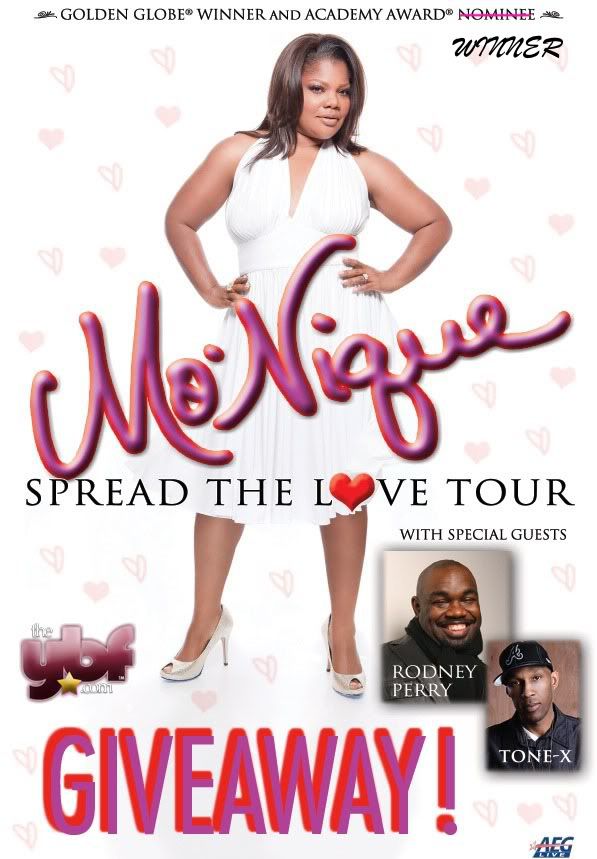 Golden Globe winner and Academy Award winner
Mo'Nique
will be spreading love and laughter across the nation for her "Spread The Love Tour" stand-up comedy tour beginning this month! TheYBF.com wants to be sure you FAB Mo'Nique lovers (or haters) get a chance to have her tickle your funny bone LIVE! YBF has teamed up with tour promoter AEG Live to give 3 YBF readers from New Orleans, Washington D.C., and Los Angeles (1 reader from each city) a pair of tix to see Mo'Nique, her BET late night talk show counterpart/comedian/actor
Rodney Perry
, comedian
Tone-X
and
DJ Ant
! So, if you're trying to laugh until "the bottom of your stomach hurts" AND you live in/near New Orleans, D.C., or L.A., here's what you need to do. Submit your entry to YBFAEGLIVE@TheYBF.com and include:
*Your favorite movie Mo'Nique is featured in
*Your full name
*Your contact phone number
You must send from a valid email address, as it will be used to contact you if you win. Please only 1 entry per person. Any duplicates will be disqualified. In the subject line write "Mo'Nique/AEG LIVE—(Name of City)". Any submission without name of city will be deleted. Contest ends Tuesday, March 16th, 2010 @ 11:59pm/EST. Winners will be informed via email.
*All entrants will automatically signed up for AEGlive.com newsletters via their email. Entrants can opt out of AEGlive.com newsletters upon receiving their first email.
*TheYBF.com and AEG Live are NOT responsible for transportation to the event.
If you are not one of the 3 lucky YBF readers to win the tickets, you can purchase tickets
HERE
. More tour info
HERE
.