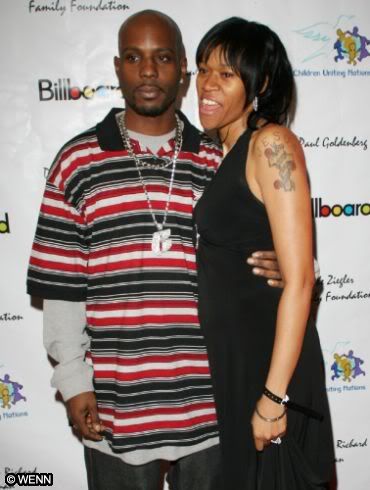 DMX
was just arrested AGAIN this morning in Arizona for the zillionth time. No joke. I see there's some things he just couldn't leave in '09. According to TMZ:
The details of the arrest are unclear -- but the rapper's lawyer Gary Jenkins tells us "He's been battling addiction for some time and he's in need of treatment."
Jenkins also tells us, "We're hoping that maybe Dr. Drew might be able to help him."
DMX -- aka Earl Simmons -- was arrested a bazillion times over the last two years for all sorts of reasons ... including drug charges.
Jenkins added, "He's a talented man ... we're praying for him."
A drug addiction? SHOCKER. On a side note, let me find out this "arrest" is a ploy to get on "Celebrity Rehab".... News on X's wife
Tashera
's new tell-all when you read the rest.... After being married to DMX since 1999--the same year he started getting arrested on a yearly basis--Tashera Simmons is now about to drop a tell-all. She wants us all to know about her life with the growling rapper--including all the paternity suits, cheating, tours, money woes, drugs, and of course the numerous arrests. AllHipHop.com reports:
"She will be talking about her experience with her family and trying to hold them together through the DMX journey," a representative for Tashera told AllHipHop.com. "Her story is a stellar, heart wrecking, powerful, firsthand account of survival and family strength in a chaotic life and the fame that came with that life."
Hmmm.