Tiny & T.I. Set 2010 Wedding Date
Mar 18 | by Natasha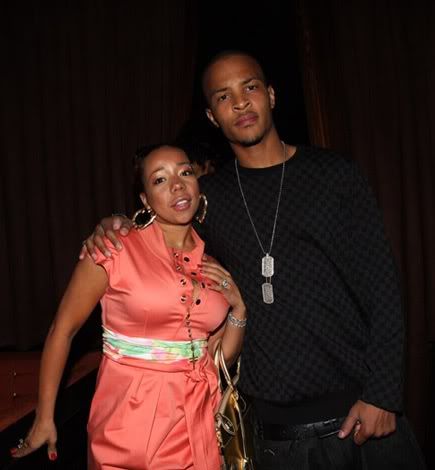 Tameka "Tiny" Cottle
and her engagement ring will be happy campers this year.  In a recent interview with
VIBE
, she dished that she has fallen in love with her
Clifford
all over again, and she's going to be Mrs. Harris sooner than we think.  She says she and T.I. are planning a small, private wedding with around 200 guests before the year is out.
On folks constantly criticizing her for waiting so long to get a wedding:
"I don't really worry about what people say about what's taking so long. Like, it ain't none of your business what's taking so long," said Tiny of the engagement. "If we happy, why are you so concerned? We living, we're happy, we're in love. I mean, it's no doubt in my mind that he doesn't love every piece of me and vice versa so we're just doing what's comfortable and what works for us. Tiny and T.I. Not for the world. When we get ready to make a move, we will make it. We just can't do it for everybody."
More when you read the rest....
On rumors of a summer wedding:
"There are wedding plans coming soon, sometime this year," said Tiny, adding that there's no rush and that she wants it to be a small affair with about 200 guests. "Not too big 'cause I want it to be as private as possible. There've been a million rumors about us getting married. It's taking away from the day that we really do get married so I just want to kind of have that moment for myself."
On rekindling the romance once T.I. was released from prison this past December:
"It was crazy. I seen him every week," said Tiny over the phone from Atlanta. "We just picked up where we left off and we just, you know, I'm just in love all over again."
A summer wedding would be good promo for T.I's comeback album releasing this August.  Just saying...
The Randomness: 1.  The texts from
Sandra Bullock
's husband's alleged mistress
have been revealed
.  I swear
Tiger
's jumpoff's are having conferences around the country teaching these chicks what to do.