Alek Wek Covers ELLE South Africa+Chanel Iman Gets Sparkly BFFs+Erykah Badu's Album Cover
Mar 19 | by Natasha
Supermodel Alek Wek is gracing the 14th Anniversary April issue of ELLE South Africa. And looking fabulous while doing so. The mag states that the Sudanese model is sharing her incredible journey from fleeing bullets in Sudan to conquering the catwalks and New York...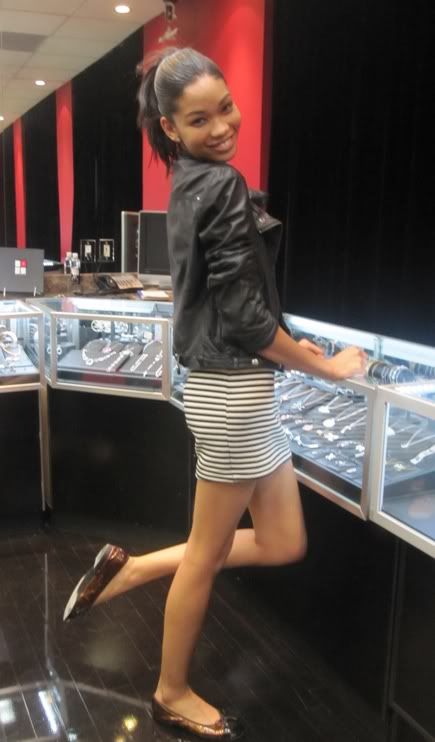 And speaking of models, Chanel Iman was spotted in Jason of Beverly Hills office buying a pair of diamond studs last night. She tweeted: "@itsmechaneliman Bought some really hot earrings today from @JasonofBH !!! As they say DIAMONDS ARE A GIRLS BEST FRIEND !!! BALLIN" Looks like that model money is indeed treating her right. More when you read the rest...
Nice.
Erykah Badu's new artwork for her NEW AMERYKAH PART TWO: RETURN OF THE ANKH is here. The LP drops March 30th. And here's the uber detailed explanation of the artwork via her press release: The cover art for NEW AMERYKAH PART TWO is a collaboration between ERYKAH BADU and famed artist and poster designer EMEK, who also designed the inspired packaging for 2008's New Amerykah Part One: 4th World War. The new album cover depicts an underwater image of BADU wearing a suit of armor that symbolizes the tough exterior she developed to protect herself from the harsh realities of life. The armor is her old shell and now she's liberating herself from it by climbing out of her own head so that she can be reborn. Her tuning fork is summoning the vibrations of the universe and the purple-colored tree of life and purple sky represent the 7th Chakra—the Crown Chakra right above her third eye shield, which represents peace, wisdom, and spirituality. The numerical theme of three is symbolized by three moons, three hidden babies, three trees, and three ankhs. Closer inspection reveals that BADU's shoulders are surrounded by many of the same objects that filled her abstract afro on the cover of New Amerykah Part One, including handcuffs, a foreclosed home, fast food, cigarettes, broken chains, and a military tank. Here, those items represent refuse and rubble from which new life grows into a vibrant garden of colorful flowers blossoming all around her. Erykah says about the album: "With Part One, I was standing at an apex, looking at what was going on around me politically, socially, and economically," BADU explains. "With PART TWO, I'm hovering over me, looking at what's going on inside of me." Can't wait.