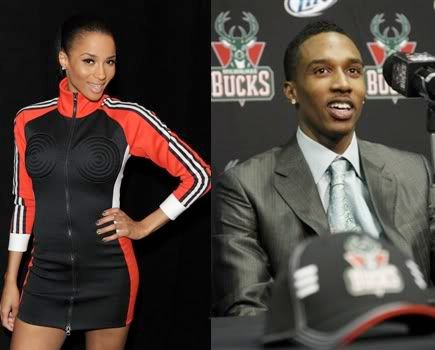 We hear that
Ciara
and her handlers have tightened up on the access people have to her. Since supposedly all messages to her via Twitter/phone/text/etc are screened before she sees them, certain guys have been taking their crushes on her very public instead. First it was NBA cutie
Arron Afflalo
sending her flirty Tweets
. Now, rookie Bucks baller
Brandon Jennings
is professing his secret crush and lust for her in a new
GQ
magazine interview. Here's a snippet of what the interviewer says Brandon told him his first date with Ciara would be like:
First, he'll fly you to his new, adopted hometown of Milwaukee, where you'll sit courtside at one of his games. Then he'll take you out downtown for a nice (but not extravagant) dinner at a steak house called Carnevor, a favorte spot of his. From there, the nightlife options are a bit limited; Jennings, still months away from his twenty-first birthday, can't get into any of the local clubs. So a movie might be in order — say, "Ninja Assassin?" He's already seen it, but if you haven't, he'd watch it again. Or maybe some video games back at his condo? ...
"We don't have to be in a rush," [Brandon] says. "we can take it step-by-step. Let's just hang out, have fun, and see what happens."
Source
Looks like CiCi has a hold on these boys....