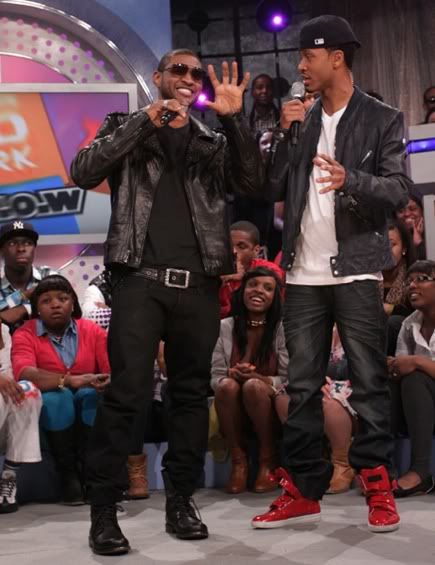 Usher
hit "106 & Park" to pub his upcoming
Raymond vs. Raymond
album.  He'll also be appearing on "Idol" and "Dancing With The Stars."  I swear I feel like Ursh is going through a midlife crisis or something.  Lookin' nice though.
And here's
Trina
's new Amazin' album cover.  Pretty. More pics when you read the rest...
Wonder how this one's gonna work out for him.
And for all my fellow "Project Runway" fans,
Anthony Williams
was at a CVS in NYC signing copies of
Marie Claire
.  It's the issue where
Heidi
is rocking his design from that one competition a few weeks ago.   Team Anthony! The Randomness: 1. Guess who's back?  Those dramatic ass "Real Housewives of New Jersey"!  Check out the promo
here
.  NJ Season starts May 3rd on Bravo! Photogs: Nunez/Lamparski