NEWS FROM SPLITSVILLE: Dwyane Wade Calls Siohvaughn An Unfit Mother & Demands Custody Of Kids!
Apr 01 | by Natasha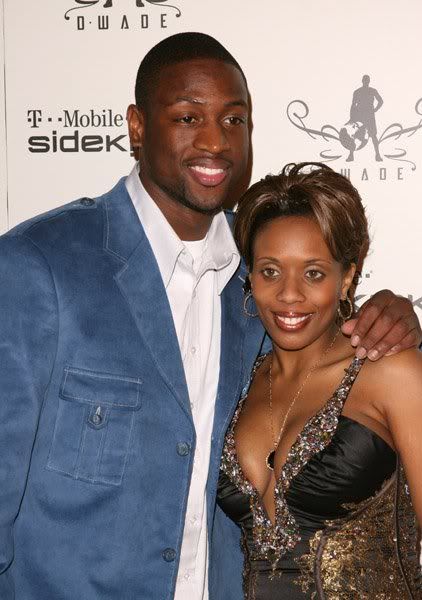 Just when we thought
Dwyane Wade
and
Siohvaughn
were working out their divorce amicably at this point, ish just got real ugly. Dwayne has filed a docket of over 300 pages asking for full custody of their 2 sons, ages 8 and 2. And he says it's all because Sioh's an unfit mother. O snap! According to
ESPN
:
Documents obtained Wednesday by The Associated Press show Wade alleges his wife Siohvaughn cannot "be considered a fit and proper person" to raise their children. In more than 300 pages of filings, the All-Star says his wife exhibited threatening behavior, had extramarital affairs, uses abusive parenting methods and is unwilling to let the 2006 NBA finals MVP see his children.
"For more than two years, I have tried to make peace with Siohvaughn concerning our divorce and custody of our kids," Wade said in a statement released to The AP. "I no longer believe that's possible. Siohvaughn has consistently attempted to interrupt or prevent me from having visitation time with our boys."
Siohvaughn Wade's behavior "has made it evident that she is unstable, dishonest, unbalanced, unwilling to accept responsibility for her actions, not of good character, and therefore, unfit to be a custodial parent," according to the petition
. Wow. More when you read the rest.... More of the drama in D-Wade's filing:
"I'm sorry to say that many of the things she has done during our marriage and throughout this divorce have convinced me that it is not in our children's best interest that she have custody," Wade said in his statement to The AP. "As a result, I have decided to fight for custody of our children."
The documents obtained by The AP include police reports from when Siohvaughn Wade called authorities to the couple's home in a Miami suburb on Christmas Eve 2008 as Dwyane Wade arrived there to see his children.
They also include claims made by Andrea Williams, a former friend of the couple, that Siohvaughn Wade paid for trips to Las Vegas and other places, bought a man she was romantically involved with as far back as 2004 a car and a motorcycle, threatened to find a gun and shoot her husband, and voluntarily entered an Illinois hospital to deal with anger-related issues.
"I feel our children's health and safety are at stake," Dwyane Wade said. "Our two children are my top priority."
Wade is already suing his wife for defamation after she alleged last year that he gave her a sexually transmitted disease, a claim that was eventually withdrawn.
"They put us in a position and they put Dwyane in a position that he has no alternative," said attorney James Pritikin. "If he really wants to make sure that his children grow up in a healthy environment, he's got to be the custodial parent for these children. He's the only one that can give them emotional stability and place their safety and health above all else."
Dwyane and Sioh's divorce proceedings continue this Friday when the custody petition will be introduced in court. And their official divorce trial doesn't begin until June 7th. The two have been battling it out with accusations of adultery on both sides, STDs, violence, and much more. Dwyane is also battling lawsuits outside his divorce such as this $90 mill restaurant venture failure. And I have a feeling things are about to get worse as this battle continues.  Is
Gabby
going to watch the kids while Dwyane is at his large amount of away games during the season?  Just asking....
Source