Looks like Siohvaughn Wade's got more drama in her stash for Gabby Union. Sioh's now claiming Gabby's "mistress affection" with Dwyane in front the kids have caused the kids "emotional distress". And it's all part of the lawsuit.
The deets when you read on....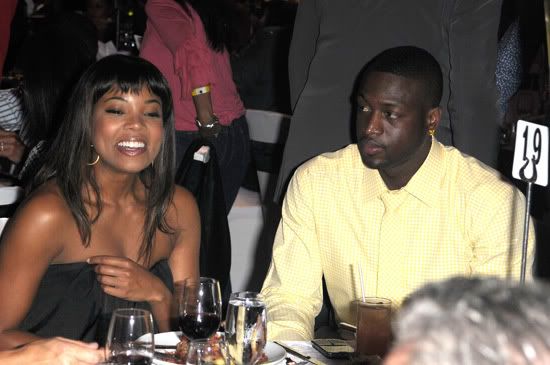 Here's more just released details from the Chicago Sun-Times:
The wife of NBA star Dwyane Wade is claiming the Miami Heat guard's girlfriend is causing her two children emotional distress because she is too affectionate with her estranged husband.
Siohvaughn Wade claims actress Gabrielle Union "engaged in sexual foreplay" in front of Wade's 8-year-old and 2-year-old sons while on a visit to the basketball star's Miami home, according to a suit filed Tuesday in Cook County Circuit Court.
The older child has sought medical treatment for stress and anxiety, has developed nervous habits, headaches, and "significant" hair loss causing bald spots, according to the suit. The boy is currently seeking court-mandated mental evaluations at the University of Chicago, the suit said.
The suit also claims Wade's oldest son was allowed to play in a pool unsupervised at the basketball star's Miami home.
Somebody's not taking this philandering lightly.
And Dwyane and Gabby have denounced Sioh's claims:
Wade tells TMZ, "I am shocked that Siohvaughn Wade has brought this baseless and meritless lawsuit in the name of our children against Gabrielle Union."
Wade adds, "I am deeply saddened and disappointed that Siohvaughn has used our sons once again as pawns and is now lashing out at Gabrielle, who is an innocent party. It is clear that this is a desperate attempt to retaliate against me for seeking sole custody of our children and requesting that the court have her undergo a psychiatric examination."
Wade concludes, "My primary concern is my children and actions such as this only inflame the situation and are harmful to their well being."
Gabrielle Union's rep also rejects Siohvaughn's claims -- and apologizes to the court system for having to deal "with erroneous claims when there are real victims who should be receiving the legal attention they need."
Interesting...