Lawrence Taylor Is Being Set Up?
May 06 | by Natasha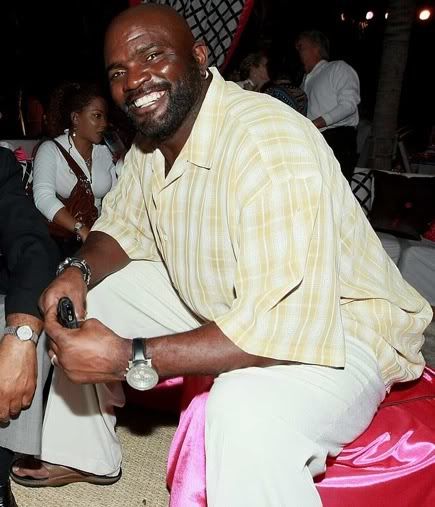 After details just came out that Giants Hall of Famer Lawrence Taylor paid $300 for sex to the 15 year old he was supposedly with last night/this morning, his wife Lynette is claiming this is all B.S.
Lawrence has been charged with 3rd degree rape (sex with a minor) in New York, but his wife and lawyer say he's innocent. More details when you read on...
Police reportedly just found a condom on the scene at the hotel. So DNA tests will likely be done. But in the meantime, Lawrence's wife and lawyer say all this is a set up and Lawrence is innocent. Hmmm. So did he accidentally end up in the hotel room with the 15 year old girl? Here's what Lynetter told the Wall Street Journal today:
"I'm watching the news just like you. That's it. I'm watching the news just like you." Asked if she'd had any contact with her husband since the early morning arrest, Mrs. Taylor said a third time, "I'm watching the news just like you. Have a good day."
But TMZ says she told them that her hubby's being set up:
TMZ just spoke with Lynette Taylor -- LT's 3rd wife -- who tells us the allegations are "all bullsh*t. As for why she suspects a setup, Lynette claims that the timing of the arrest is suspicious because it came just days after LT was featured on an A&E documentary called "Fame and Recovery" which she believes "made him out to be a monster. Lynette wouldn't expand on who she thought could be behind such a plot, but she was adamant that the timing of the show and the arrest were no coincidence.
Apparently the 15 year old girl in question is a runaway from the Bronx and she reportedly has a pimp. This is really crazy...