So NOW Eddie Wants To Make Nice With Mel B. & His Kid?
May 11 | by Natasha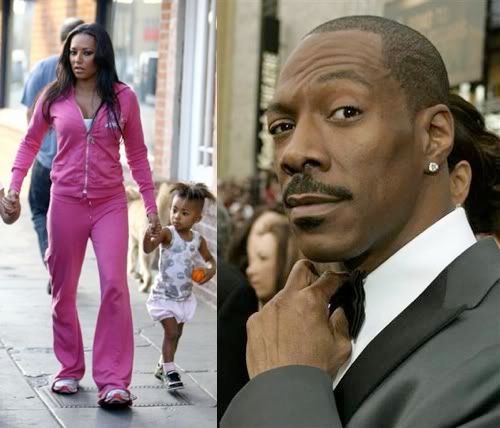 Remember when Eddie Murphy publicly denied his daughter 3 year old daughter Angel Iris since before she was born? And her mother Mel B. made it known Eddie hadn't even seen or spoken to her since she was born? Well it sounds like Eddie's had a change of heart and is no longer acting like an ass.
He recently hosted a party at his home, and invited Mel and Angel who actually showed up. And sources say they are allworking to repair their nonexistent daddy-daughter relationship. Deets after the cut....
According to the Daily News:
"While promoting 'Shrek Forever After,' Eddie talked a lot about his kids," says a source. "Ever since, he's been making efforts with Mel to get to know their daughter."

Murphy and Brown have famously feuded since news broke of her pregnancy in 2006, with Murphy initially denying he was the dad. Not so, said a paternity test. But even after the actor found out he was indeed going to be a father - for the eighth time - he was repeatedly accused of wanting nothing to do with his child by the former Scary Spice.

But it looks like he's had a change of heart. Our source says he hosted a bash at his L.A. compound last week, and Brown, her husband, Stephen Belafonte, and Angel, her 3-year-old daughter with Murphy, were in attendance.

"They've both said some really nasty things about each other to the press," says our source. "So needless to say, some guests were shocked."

We hear the "Dreamgirls" actor had an additional push to make nice.

"Eddie's ex-wife Nicole helped them reconcile their issues, too," the insider said of Murphy's ex-wife, with whom he has six kids. "Angel is Eddie's youngest child, and Nicole wanted her children to know her. That helped Eddie to come around and get past all the animosity he had toward Mel.

"All of the children were there for the party, and it appeared that they're one big happy, blended family," the source added.

Mel B wasn't Eddie's only ex in attendance at the bash. The actor also seemed to be making an effort to get reacquainted with former girlfriend Shaun Robinson, the "Access Hollywood" host he dated before Brown.

Says the source: "At one point, they were in the kitchen together and seemed pretty friendly. There were whispers at the party that maybe they'd get back together someday."
Eddie's trying to make amends with everybody it looks like.