*UPDATED WITH VIDEO* Kat Stacks Gets Beat Down In ATL?+Chris Brown Fights In Miami Nightclub?
May 28 | by Natasha
Kat Stacks just experienced some real ish last night. Folks at a club in Atlanta saw (and supposedly videotaped) Kat getting knocked upside the head and beat down by 2 dudes. She confirmed the beat down via her Twitter this morning. And she's claiming it was Fabolous and Bow Wow who got their boys to do it.
*UPDATED WITH VIDEO OF ATTACK*
She was sitting at a table when 2 guys came and knocked her out of her seat screaming "This is for Fabolous! This is for Bow!" I couldn't make this ish up. Her tweets: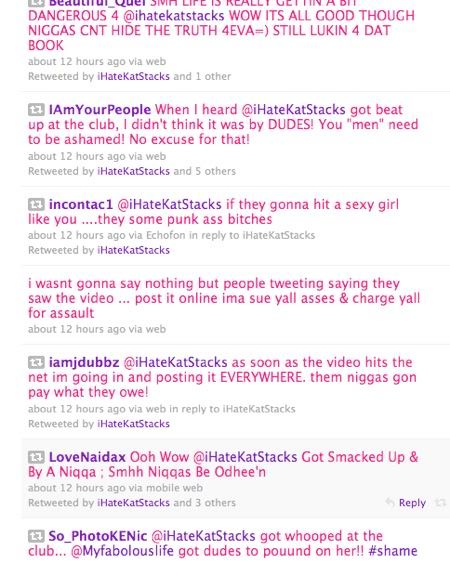 Kat says the culprits are Fab and Bow's homies Rob and Bart. Damn homie. Beating down a female is NEVER ok...no matter how much she pissed you off. But at the same time, playing with fire always leads to drama-one way or another. Kat's threatening to take legal action as soon as video of the attack leaks. Neither Fab nor Bow have commented on this ish yet. DRAMA!
Speaking of fighting at the club, word has it that Chris Brown got into a fight at Club MIA in Miami last night. We don't have the details yet, but we're told he may have caught a beat down last night. Of course, Chris denies this via Twitter. But he did say you can't expect people to act civilized at a club:
Details emerging soon I'm sure...