Lil Kim On Nicki Minaj: Pay Your Respects & Homage--Don't Act Like You Created This Sh*t"
Jun 05 | by Natasha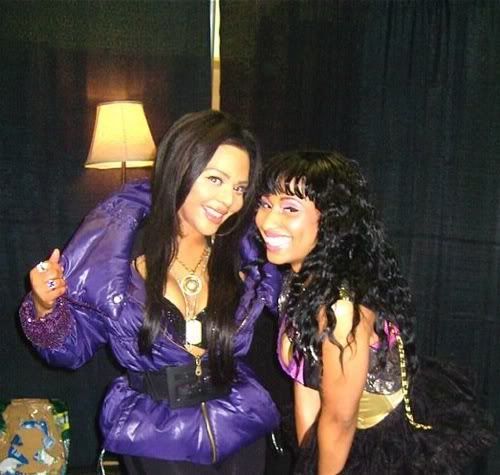 Lil Kim called in to friend of YBF Kendra G.'s radio show in Philly last night. And they got down to the nitty gritty of the Barbie Beef between Kim and Nicki Minaj.
Check the audio and summary when you read on...
Summary:
-Kim says she went on her current promo tour to remind everybody where this Barbie movement started. She just wants people to pay homage to the original black barbie and not act like they created something new.
-When asked specifically about Nicki's swagger jacking, Kim said she has no problem with someone being a copycat. She just wants that person to publicly acknowledge where it came from and pay homage. Kim also hinted that Nicki thought all of Kim's fans would just automatically drift over to the new Barbie on the block. When that didn't happen, Nicki got salty and the disrespect started. Kim said disrespecting and trying to step over her just wasn't going to work.
-Apparently Kim and Nicki were cool when Nicki first started out. Everything was all good until Kim got disrespected and felt Nicki took shots at her. (the reason behind Kim's wigilicious diss last week)
-Kim says she is always ready and willing to welcome new females to the rap game. And she has no problem with any and all females calling themselves "Barbie" because any "girly girl" should. But the problem comes in when she gets disrespected. She says a lot of ish went down behind the scenes that no one knows about....yet. She says it will all come out in due time.
-Kim does confirm she's in the middle of a transition with her management team. But she doesn't go as far as to confirm the rumors that she signed with Rocafella.
-Kim says she's "going to teach all the girls in this game who don't know how to be sophisticated ladies, how to be a sophisticated lady." She says, "It's all about respect and class."
Can't say I don't feel where Kim's coming from...on many levels. *Cue Countess Luann's beat* Elegance is learrrrrned. Let me stop....