Usher Gets Malaysian Groupie Love+Lyfe Says Men Shouldn't Pay Baby Mamas' Bills & Dishes On His Own Drama
Jul 06 | by Natasha
Usher Tweeted about his love for Malaysia last night. And we can see why. Pics and Lyfe's interesting take on child support and baby mama drama when you read on...
Usher was in the captial city of Luala Lumpur in Malaysia pubbing his album and doing some over seas promo. And he's getting all kinds of love from the ladies. OK, maybe they're not "groupies". But we put 5 on it he took at least two of them home. Just sayin'.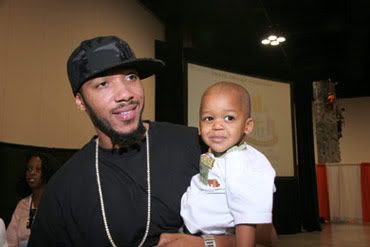 Well here's an interesting take on child support and paying your baby mama's bills. Lyfe Jennings talked to VIBE about his own trials and tribulations. Remember when he was shooting outside his baby mama Joy's house because she wouldn't let him see the kid? He's definitely had his dose of drama after getting out of jail.
And Mr. Jennings dished on why he is no longer "spoiling" his two baby mamas by paying their bills, why no man should have to pay insane amounts of money even if they make it, and why women need to get a job and be independent. Here's a snippet:
I got two boys and a little girl, two baby mamas; I feel like I got 20. Some people gon' be looking at this like I know this nigga ain't trying to give advice—because I've made a lot of mistakes. But I would say don't have sexual dealings with your baby mama once it's established y'all not gon' be together. Because when they want you and they got a chance, then they gon' keep up with the nonsense and every time that they get mad about something it's gon' reflect with the kids.
My baby mama always trying to send me to jail, that's her goal in life. My other baby mama she cool. She wants me to be involved in my child's life. But both of them are just spoiled and I take full responsibility for that 'cause I spoiled 'em. But now I'm trying to spoil me.
Interesting. Check out VIBE for the rest of what he had to say about women needing to get a job and be independent. Your thoughts?
The Randomness:
1. Diddy's rowdy Atlantic pool party this weekend got shut down. Surprise surprise. Story
2. Is DMX getting out of jail early?? Story