TIDBITS: Alicia & Swizzy's New $14 Mill Pad+Kelis Pays in Food+Whoopi Returns to "Sister Act"?
Jul 08 | by YBF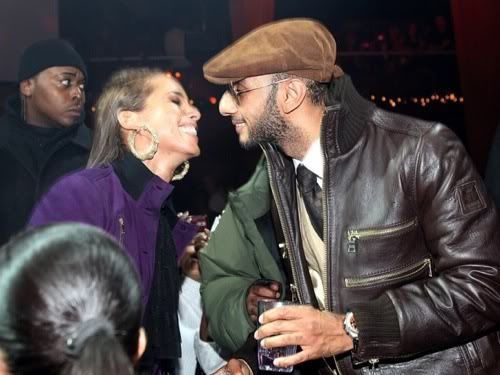 It was rumored back in January that engaged couple Alicia Keys and Swizz Beatz were house hunting with Lenny Kravitz's famously fabulous Soho loft at the top of their list.
And it looks like the couple just copped the $14 mill spot. Well that'll be one HOT Welcome Home present for their new baby. More ish when you read on...
What's so stunning about Lenny Kravitz' old place you ask? Well according to the Real Estate Stalker:
"This spectacular duplex penthouse loft with 6,000 square feet of interior space and 3,000 square feet of outdoor space has been newly redesigned and renovated with no expense spared to create the most luxurious and important property downtown…A suspended glass staircase leads to the 2nd level which features the Master Bedroom w/ a sitting area, a huge Master Bathroom and 3 additional bedrooms each with their own bath. Another glass staircase leads to an enormous roof deck w/ a built-in barbecue…."
Fabulous.
Kelis found an interesting way to pay her producers for her latest album. Instead of paying money, she made homecooked meals for them.....Yes, she paid them in food. More deets plus Whoopi returns to Sister Act when you read on....
She told Yahoo Music that she did not have a record deal OR the budget to pay a crew to complete the album. The singer said, "I just graduated from culinary school and I'm cooking a lot and I'm pregnant...you can eat. I have a studio in my house."
Maybe the $51,000 a MONTH that she receives from Nas isn't enough to make an album. Go figure. I guess her milkshake really does bring all the boys...and employees.

Whoopi Goldberg is set to return to Sister Act....the stage play version. She is currently in talks to join the London cast of the production. Whoopi played the role of Doloris/Sister Mary Clarence in Sister Act and its sequel.
The actress is reported to portray the role of Madame Superior, which was currently played by Dame Maggie Smith. Whoopi hopes to join the cast for the production's final run in October. The show will then cross the seas and make it's way to Broadway. This sounds like a perfect opportunity for Lauryn Hill to reprise her role as well. Just wishful thinking...
Would you see the Broadway version of Sister Act?