Will This Be T.I. and Tiny's Secret Wedding Weekend!?
Jul 21 | by _YBF
T.I. and Tiny may secretly wed this upcoming weekend on a private island in Hawaii, according to a little birdie in our Inbox. The couple left for Hawaii on Monday, and both have been suspiciously silent on their twitter pages. But that hasn't stopped Tiny's daughter and The OMG Girlz from talking.
Read on for pics and tweets from Hawaii....
According to our source, T.I.P., Tiny, and the family along with The OMG Girlz and their parents and friends are all in Hawaii. Apparently, they just arrived on Monday. And the couple is allegedly set to wed on a private island this weekend. Tiny did say in numerous interviews months ago that she and T.I. would likely have a summer wedding. So we wouldn't be surprised if all of this wedding talk rings true.
Lourdes Rodriguez aka @OMGLoLo tweeted a pic of T.I. and Tiny's son King sitting at the airport bound for the island. And you can even see Dejha (T.I.'s daughter) in the background.
While details about the nuptials are obviously being kept top secret, we do have pictures of the OMG Girlz having fun in Hawaii. Tiny's business partner Keisha tweeted a photo of them kicking it in the pool: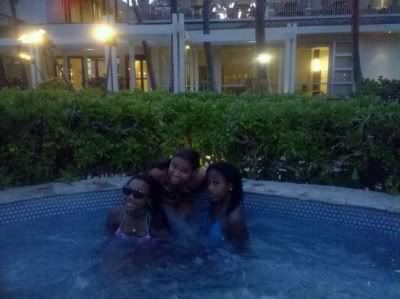 Bahjah Rodriguez aka @Beauty_OMG twit pic'd a photo of herself on the beach.
And the girls have been talking about their trip on twitter.
Zonnique (Tiny's daughter/@Star_OMG) tweeted she was in Hawaii and having a lot of fun:
Lourdes Rodriguez aka @OMGLoLo tweeted about her trip to Hawaii too. And when a friend asked if she was in Hawaii for a wedding, LoLo remained tight lipped.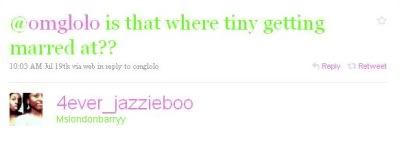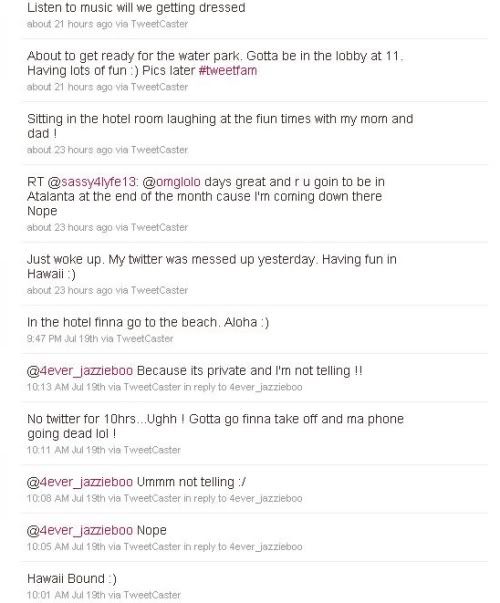 Hmm.
These ladies seem to be spilling all the beans about everything except what we really want to know.
We're sure something will slip out very soon. Time will tell....