Ready For Fantasia's Adulterous Sex Tape Scandal?!
Aug 07 | by _YBF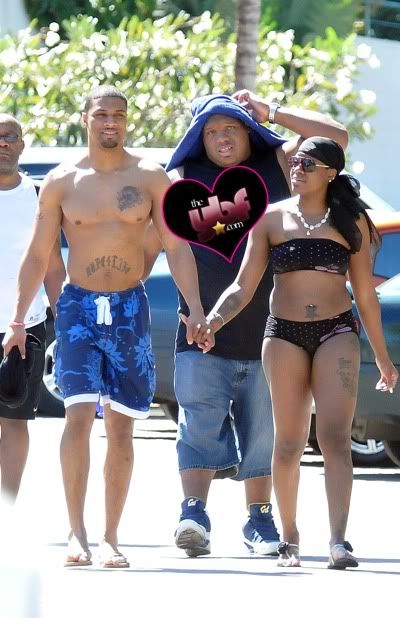 Fantasia said she'd never spoken to the wife. She said she was not in a relationship with the husband. And she said she'd never share a man. Well, according to court documents filed this week by Paula Cook, the wife of Antwaun Cook, Fantasia is a liar and there's a sex tape to prove it. Read on for the deets.....
If Fantasia's new album is about sex, lies and betrayal - she has fully thrown herself into the PR and promotion. Where life imitates art.
Paula Cook, the wife of Fantasia's alleged lover Antwaun Cook, has filed a lawsuit against him naming Fantasia as the other woman. YBF was the first to break the story of Fanny cheating with Antwaun last November. And she denied it to a tee.
This could get really ugly AND costly because North Carolina is one of seven states where the spouse can actually sue the third party/homewrecker in the event of a divorce. And Fantasia has too many mouths to feed in that house of hers to be trying to pay alimony to somebody else.
In the complaint, Paula seeks custody of the couple's two young children, ages 1 and 4, along with child support and alimony. And get this...the complaint references a sex tape as one possible element to prove an affair.
Court documents say the "Husband and Ms. Barrino have at times recorded their illicit sexual activity."
And the Christ-loving sermon preaching singer was pretty nasty about the situtation too. In the court documents, Paula had a phone conversation with Fantasia and was told:
"He don't want you. Maybe the next time that you get a husband you'll know how to keep him. That's why he is here with me."
As much as Fantasia, her mother and her grandmother loved to pray to King Jesus on that VH1 show, I'd love to know what scriptures she has found to backup this mess she created.
Read the court documents for yourself here.
SIDEBAR: Instead of running around at black-tie benefits singing Prince's "Purple Rain" she might want to remake "Scandalous."