Diddy Introduces His Facebook Friends To His Daughter Chance Combs
Aug 23 | by Natasha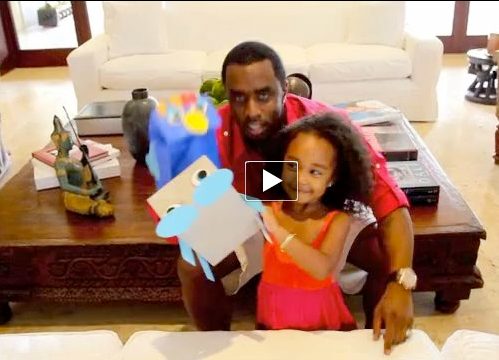 Diddy just posted a video on Facebook of him having "Diddy Daycare". And the newest kiddie to roll through is his own daughter Chance. Check out the first video he's done with one of his youngest daughters (besides the twins) when you read on...
After a rough road of Chance Combs' mother Sarah trying to get recognition for her daughter Chance by her baby's father Diddy, it looks like he's now very comfortable showing off one of his daughters to the world.
Peep the first (and very cute) public video Diddy's done with his 3 year old daughter. Diddy and Sarah conceived Chance while Diddy was still "in a relationship" with Kim Porter, who he has twins D'Lila and Jessie with, and who are now 3 and a half.
The Randomness:
1. Tiger Woods and Elin's divorce is now finalized. Details are being kept under wraps, other than the divorce being marked as "irretrievably broken." Shocker.