Aoki Lee Simmons' Make-A-Wish Foundation B-Day Party + The Dirt On Kimora Getting Fired From Baby Phat
Aug 25 | by _YBF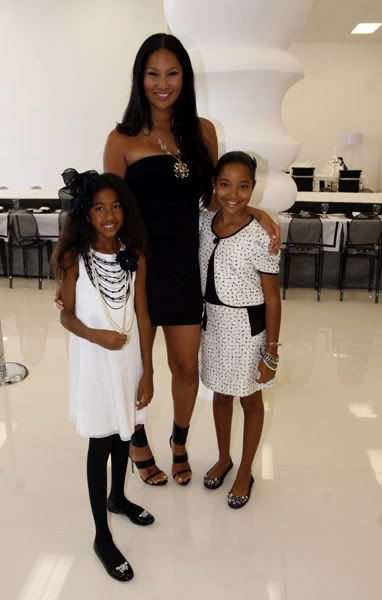 Yesterday, Kimora, Aoki, and Ming Lee spread the love as Aoki Lee Simmons' celebrated her birthday with little girls from the Make-A-Wish Foundation. We have all the heart-warming pics when you go inside, plus dish on why Kimora was pushed out of Baby Phat when you read on...
If you watch Kimora's reality show "Life In The Fab Lane," you already know Kimora teaches her daughters the importance of giving back and appreciating what they have. Kimora's daughter Aoki Lee celebrated her birthday with lots of young girls from the Make-A-Wish Foundation. And Aoki had a fab fashion show - with hair and makeup for everyone. How generous of Ming and Aoki to share their special moments with other little girls: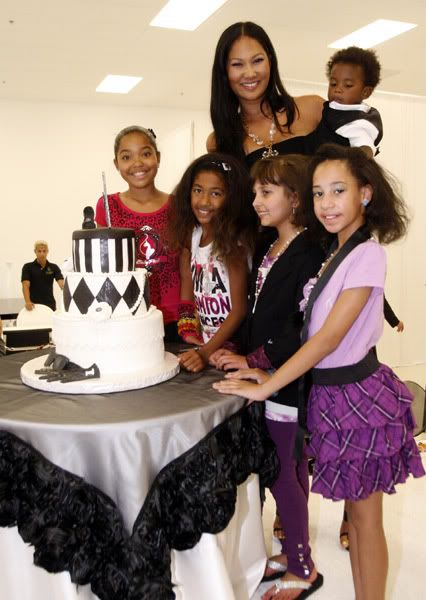 Here's a cute photo of Ming Lee Simmons, Aoki Lee Simmons, Kimora Lee, baby Kenzo, Make-a-Wish participants Meg Wasley and Taal Mosely at the birthday fashion show held at Modani in West Hollywood, California.
Did cutie Kenzo have something to say too?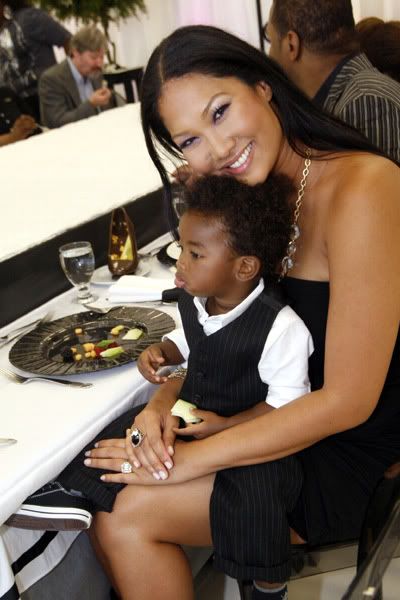 Ahhhh!
I'm about to break a nail trying to pinch his lil cheeks through my computer screen!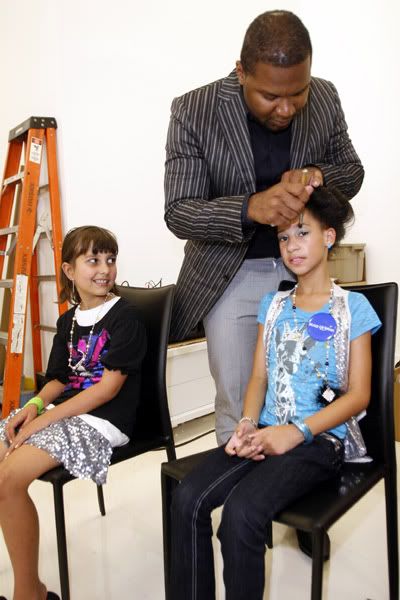 This was clearly a full on production. Kimora had her personal glam squad hook the girls up. Hair, makeup, lights, runway. Loves it.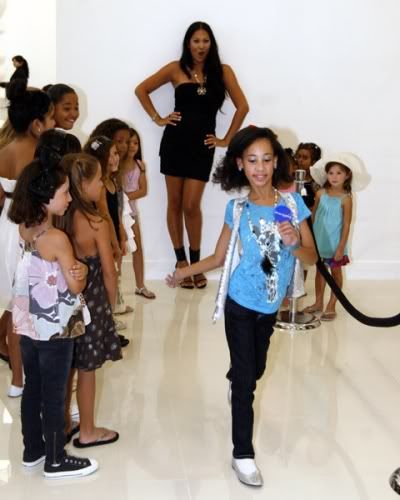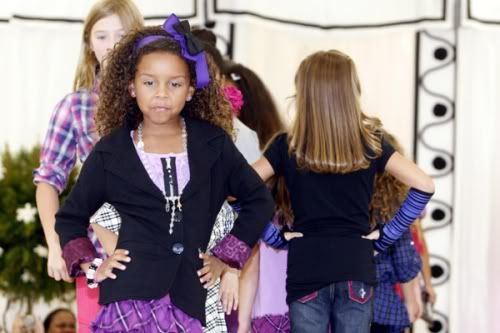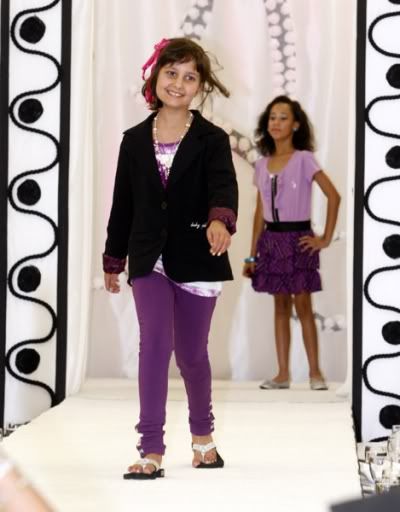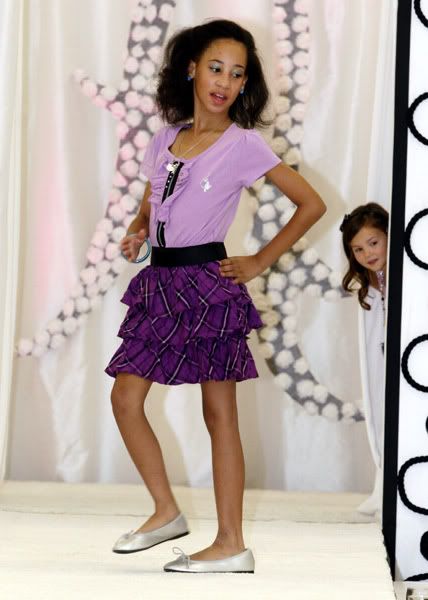 Work!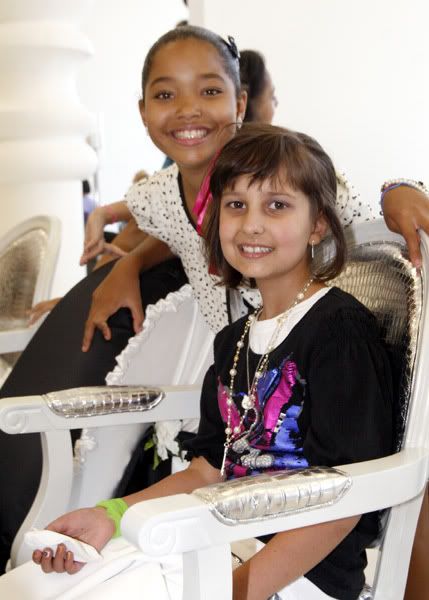 Ming Lee and Meg Wesly took a break from the runway.
Birthday girl Aoki and her sis hit the catwalk.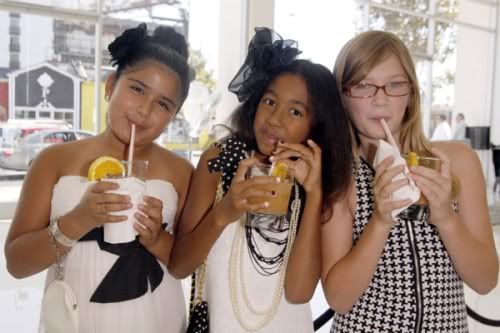 Keilye Rivera, Aoki Lee Simmons and Allana Baker had their fruit cocktails.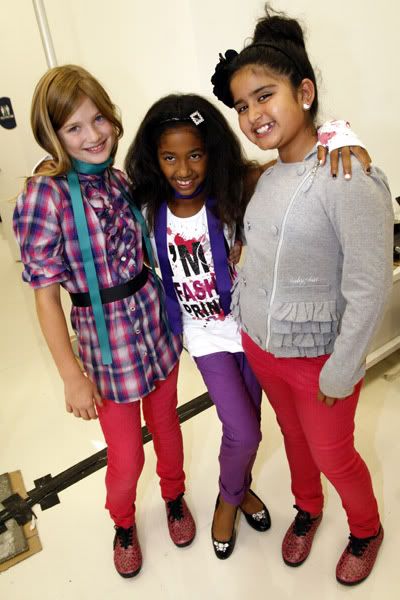 A Chanel inspired cake complete with gloves and a shoe? I DIE!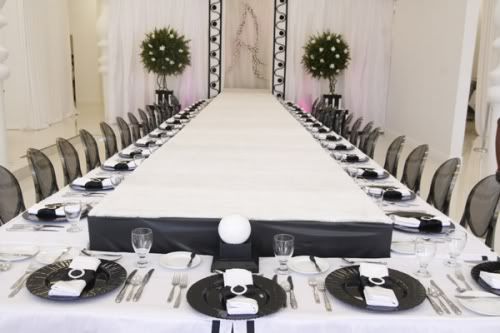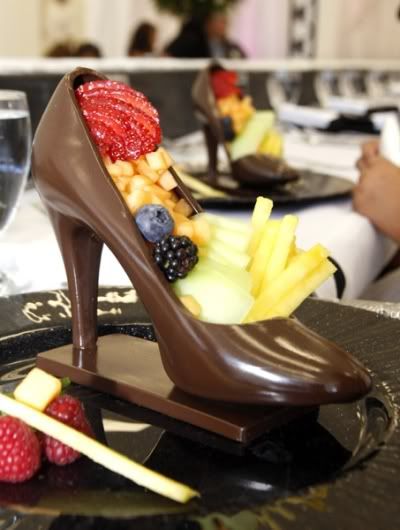 This is all kinds of fabulous.
Loves it all.
And about that "firing"...
Sources close to Kimora Lee are talking about her recently firing from Baby Phat. The Kellwood Company, which owns Baby Phat, apparently cleaned house and this blindsided Kimora who never saw it coming. Word is that is was likely a cost-cutting move by the company as Kimora was over budget. In addition to overspending, people are complaining that she would pay herself and her children fees to appear in company ads (ummm....I think they deserved those fees. It's called modeling!). But what's funny is that insiders say a lot of the budget went to airbrushing Kimora, who is, according to this Daily News article, a size ten. Thousands were spent on superimposing her head on the bodies of much slimmer models. So much for "loving youself the way you are."
So when we were all baffled by how super slim Kimora got right after having baby Kenzo, we were really looking at Becky, Sally and Jane airburshed with a Black and Asian hue.
But anywho, Kimora is still a fab chick and can honestly do no wrong in my book. Carry on girl....