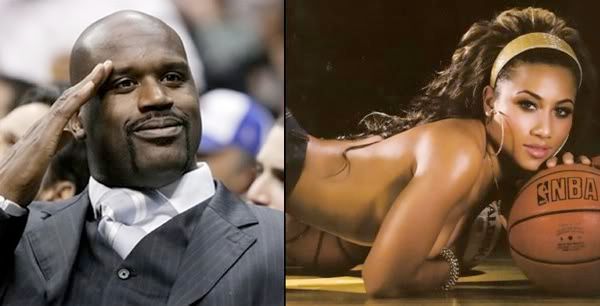 Well here's one for the gossip books. Just when you thought there was no one else for either Shaq or Nicole "Hoopz" Alexander to get it in with, the two found each other. Allegedly.
Whether the engagement rumors about these two are true when you read on...
When reports surfaced yesterday that Shaquille O'Neal had proposed to his "girlfriend" Hoopz of VH1's "Flavor of Love" and "I Love Money", we were confused as hell on when these two even became a couple.
Then, this pic and story surfaced later yesterday that Hoopz was spotted with Shaq at a diner in Tennessee. Classy. Well, Tennessee happens to be the new home state of Ms. Hoopz...and reports also surfaced this week that Shaquille recently purchased a mansion in Maryville, TN--Hoopz's hometown. Random.
All of this, paired with the fact that weeks ago, the owner of the Tennessee restaurant Sahara Mediterranean Cuisine stated that Shaquille came in and proposed to a mystery girl the owner later confirmed was Hoopz, led to the current engagement rumors.
Neither of the two have Tweeted a confirmation or denial. But that's nothing new. Shaq never really addressed anything when this very site caught him cheating on Shaunie red handed a few times over the past couple years.
Hoopz most recently was allegedly involved in a jumpoff style relationship with a very taken T.I., and not to mention that sex tape of hers. And Shaq has been most recently involved in jumpoff relationships with....well, everybody.
So is silence a confirmation? Especially since the two like to Tweet everything else they do? Time will tell...